Without a doubt, the F2/F3 in the Santa Fe warbonnet paint scheme is the most popular model railroad engine of all time. No other engine type, class, roadname or paint scheme comes close. I wonder if it's like my reason for liking them, which is because my dad has a Lionel F3 AA set of engines from when he was a boy, and I remember fondly running them around the living room when I was a kid. Then of course, it puts that bright red and yellow sharknose right in your face, and there's something cool about that too. This one is a Proto-Sound 2.0 engine, and the horn sounds exactly how I remembered my dad's sounding. Of course this one has all sorts of other sound goodies inherent to PS2, but that's what a half-century of technology will get you.

It's my smallest engine, bought used from a broken-up set at a train show, but it's no less cool running around the track (and still pretty powerful). Detail is few and far between on this diesel on the interior, so I took it upon myself to "cloud" the windows with a bit of clear matte varnish on the interior of the glass. This way you can see the light, but not the icky wires and motor like you used to be able to.


(Click on any picture to enlarge)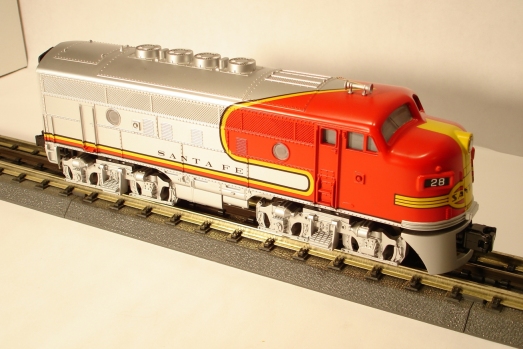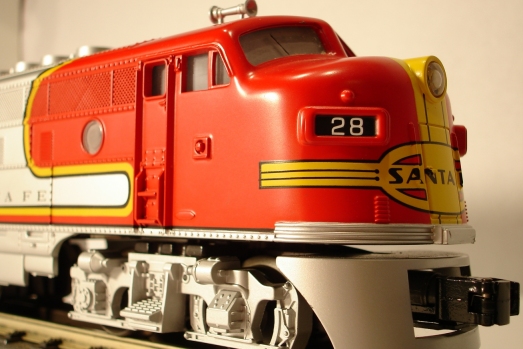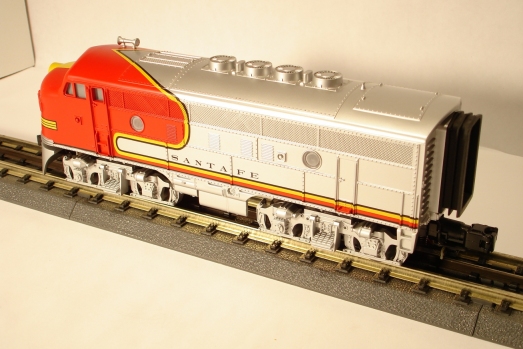 Here's some history...

The EMD F3 was a 1,500-horsepower (1,100 kW), B-B freight-hauling diesel locomotive produced between July 1945 and February 1949 by General Motors' Electro-Motive Division. Final assembly was at GM-EMD's La Grange, Illinois plant. A total of 1,111 cab-equipped lead A units and 696 cabless booster B units were built. The F3 was the third model in GM-EMD's highly successful F-unit series of cab unit freight diesels, and it was the second most produced of the series. The F3 essentially differed from the EMD F2 in that it used the "new" D12 generator to produce more power, and from the later EMD F7 in electrical equipment. Some late-model F3s had the same D27 traction motors used in the F7, and were nicknamed F5 models.