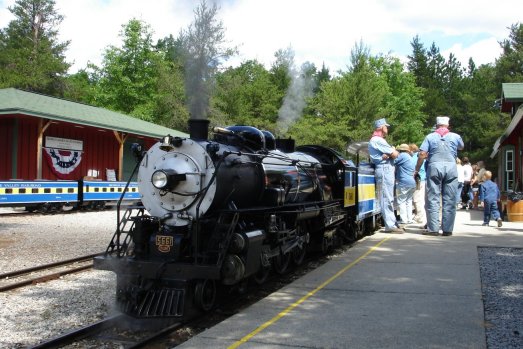 For the 4th of July this year, we went up to visit first some friends at their cabin in mid-michigan, then we went to visit my sister at her cabin. While visiting our friends Sue and Bruce, who also live in Milan, we went to a cool little place featuring what you see below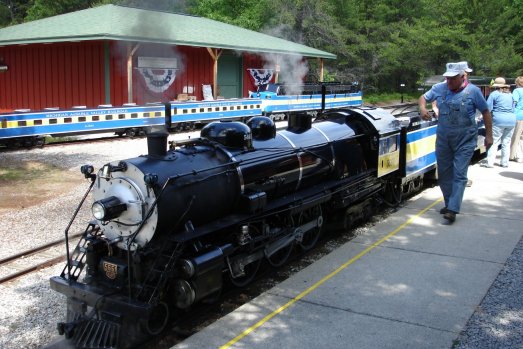 It's called the AuSable Valley Railroad in Fairview, Michigan, and as far as I'm told, it's basically the retirement endeavor of some guy who loves trains. I'm pretty sure that's him walking up, but we really didn't get a chance to talk, because it was busy being the 4th and all

anyway, check out that engine - it's fabulous! What I would give to have something like this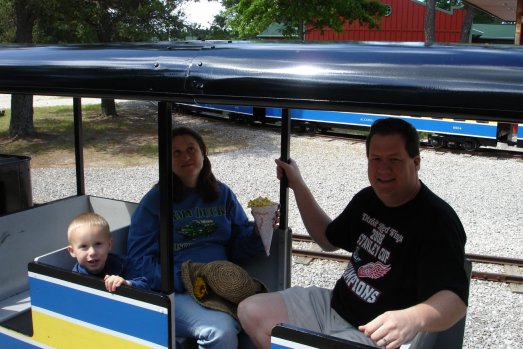 Here's the family ready for a fun ride through the woods. Obviously Jared was super happy to ride any train of any kind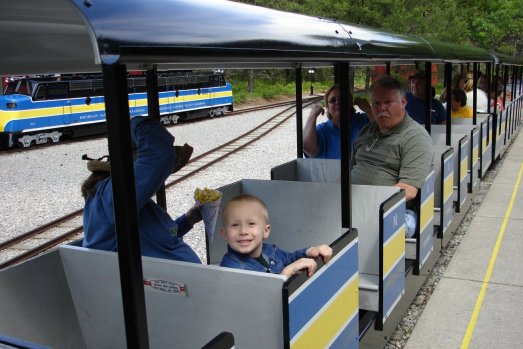 There's our friends Sue and Bruce in the back, getting ready to enjoy the ride with us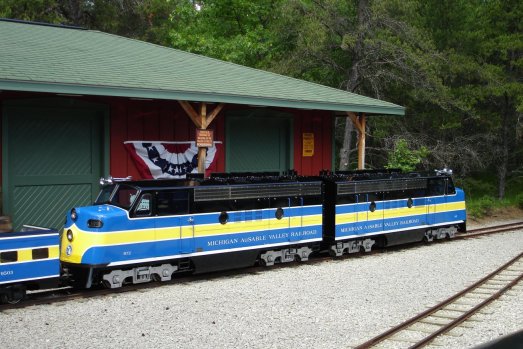 They also have this sleek diesel beauty as well. There's some better pics when we get back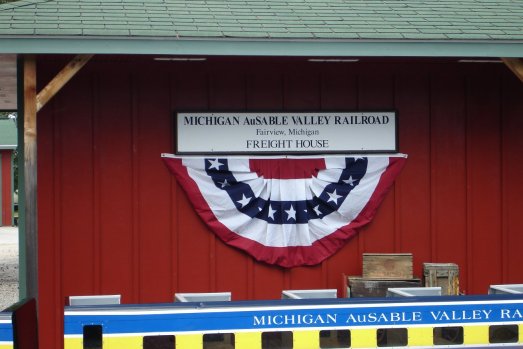 Yup, there's the railroad name, on the side of the station house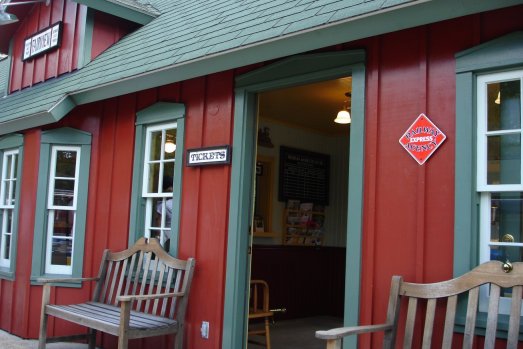 I was very impressed by how clean and well-maintained everything was, but maybe it was because it was a special day...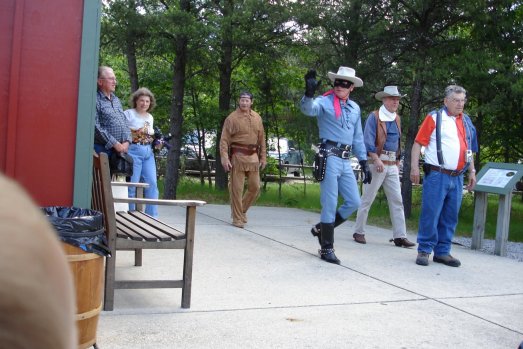 So yeah, of all things, here walks up the Lone Ranger and Tonto, and beyond that, John Wayne too (behind the Ranger)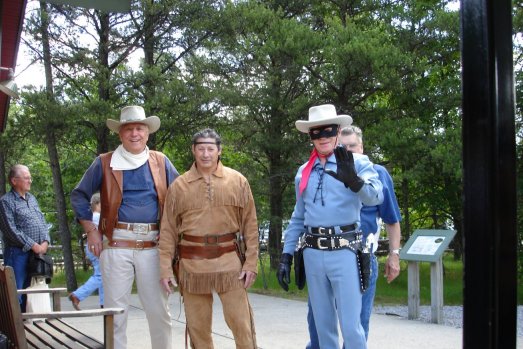 Here's a better shot of the guys saying hi to the boy. Who'd have thunk these guys would be here that day? Kinda cool to see these nostalgic heroes in these days of disposable, paper-thin characters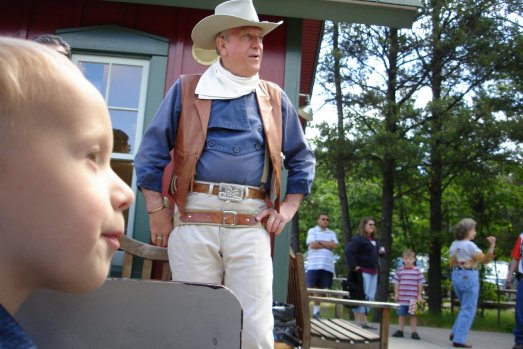 There's The Duke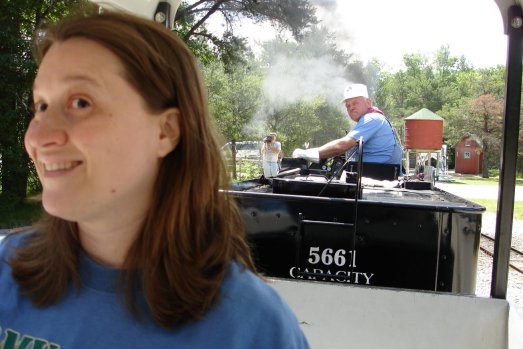 Ok, off we go...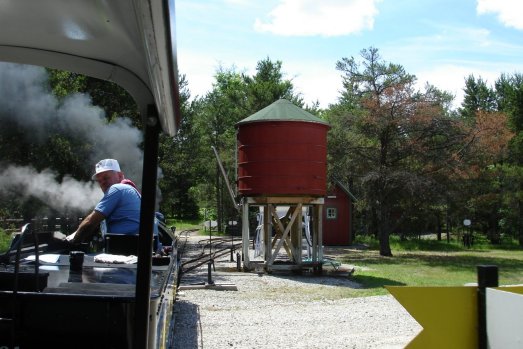 Right by the working Water tower, sweet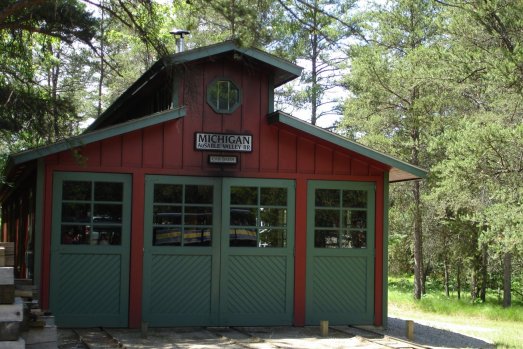 Again, look at that engine house, it's like it was built last week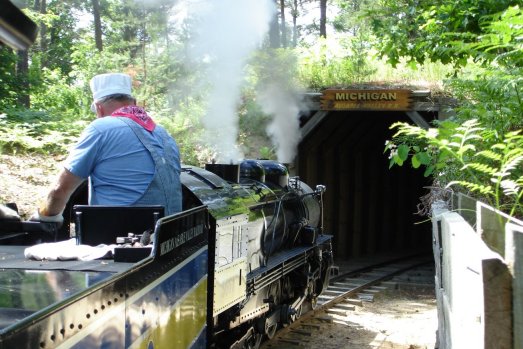 And here comes a tunnel, woo. I tried to take a pic inside it but no such luck - too smoky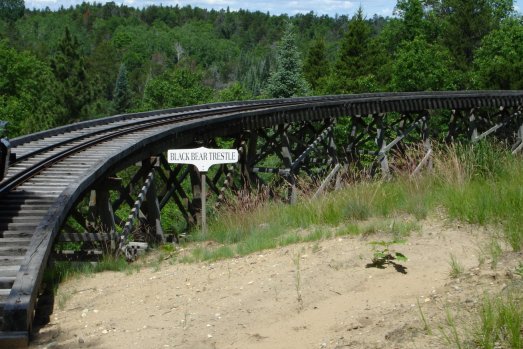 And get this, a full trestle for the train too, Black Bear Trestle no less as you can see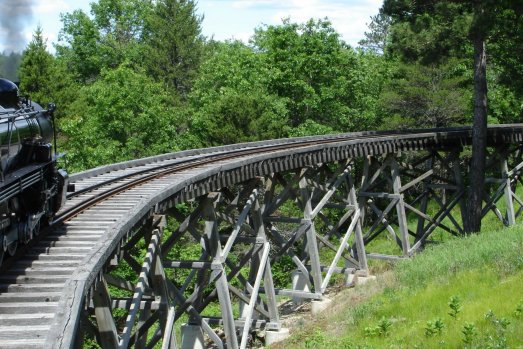 Very nice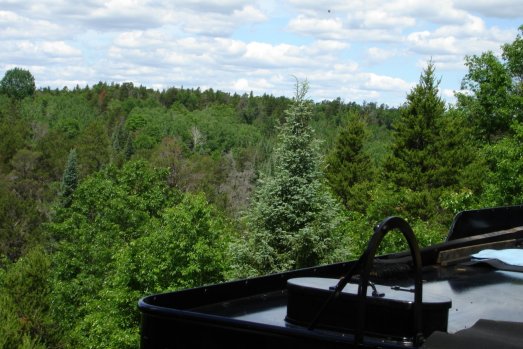 And check out that view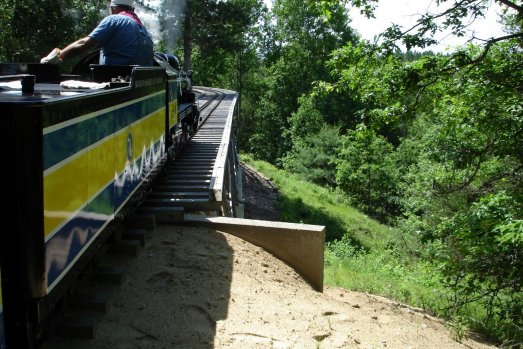 This leg of the track looped back on itself and crossed the trestle again, very nice to get that view again from a different angle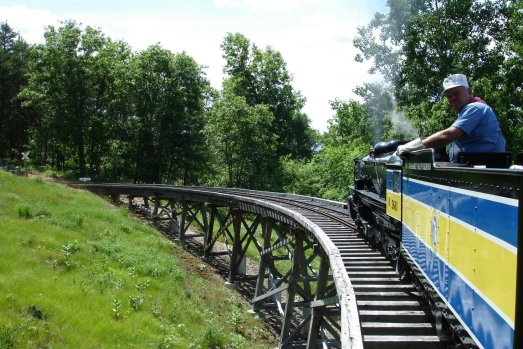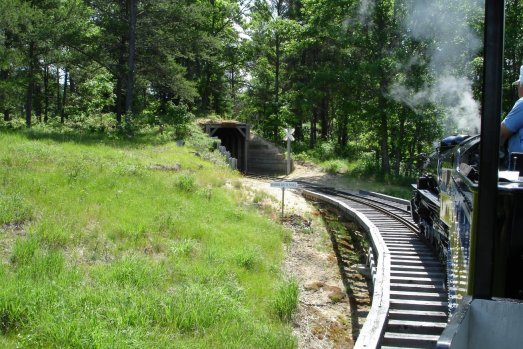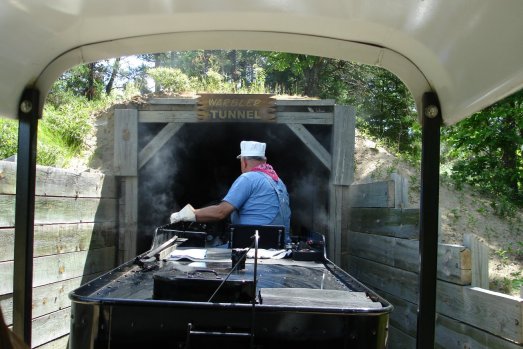 And here's the tunnel again




It went through a whole bunch more of the forest, but when it pulled back in, I got some more pics of that beautiful diesel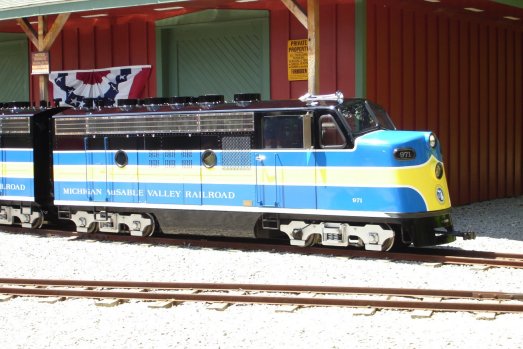 Very impressive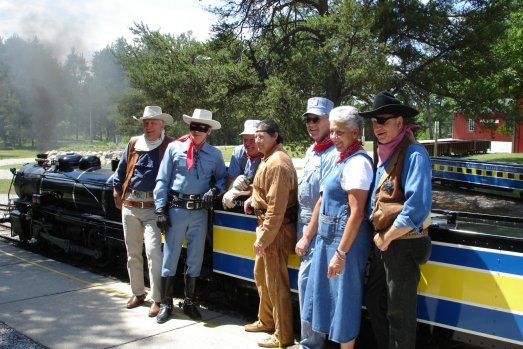 And here we see the heroes again with the owners, and as you may have noticed, Rooster Cogburn joined them. I know, it's kinda strange, with a guy playing John Wayne along with a guy playing a guy John Wayne played, but roll with it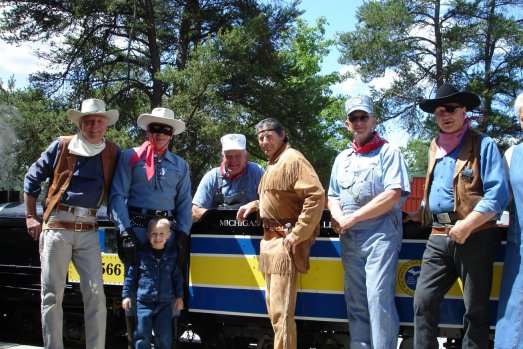 And our own little hero joins in!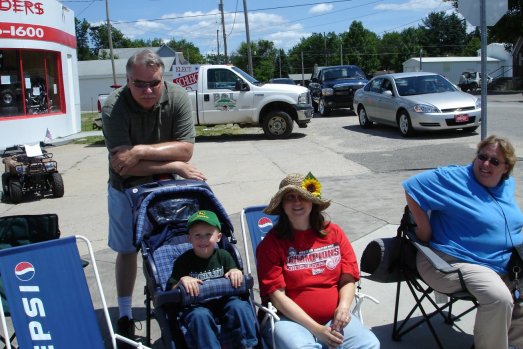 And here we are at the parade in Mio, MI. It was a great parade, trust me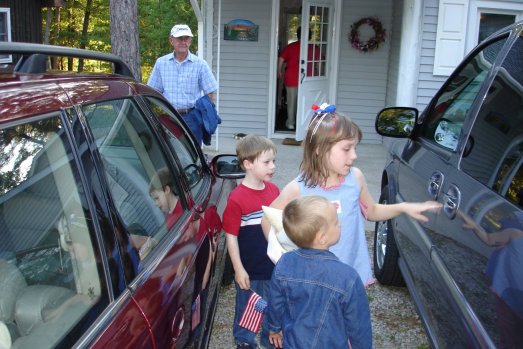 And bidding goodbye to Sue and Bruce, we headed over to National City to visit Debbie and Chuck. Here's the cousins getting ready to go watch the fireworks in Tawas City with Grandpa Travis watching on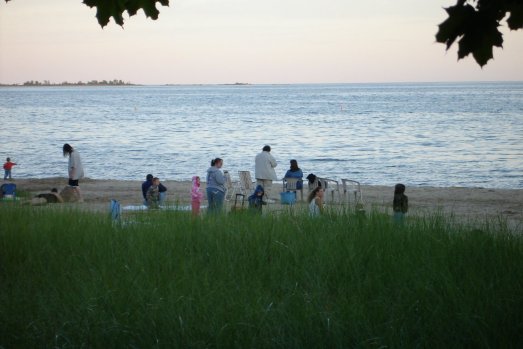 The family setting up on the beach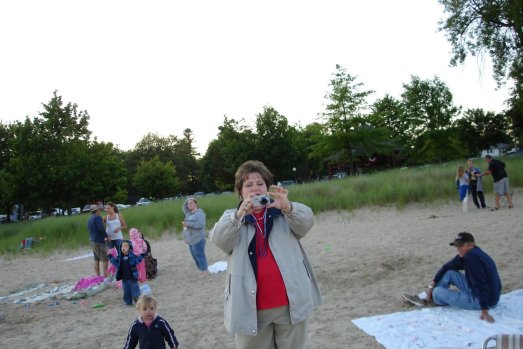 Debbie trying to take a picture before me, I won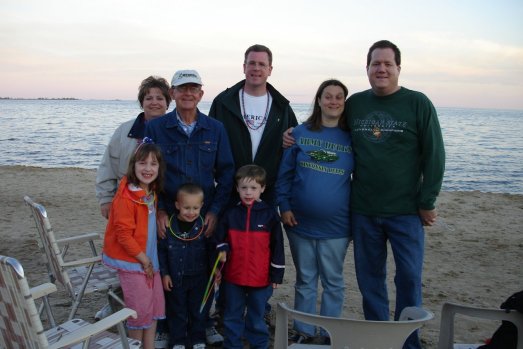 Cheese! I guess Grandma Ginny was taking the picture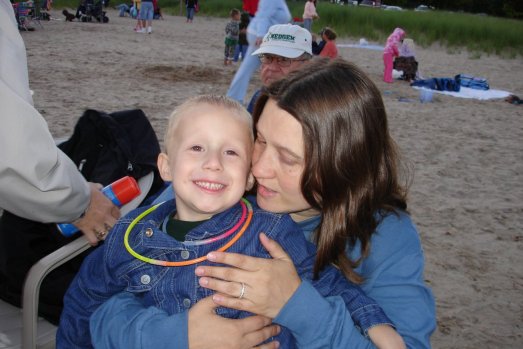 Who's a happy boy with his glowstick necklace?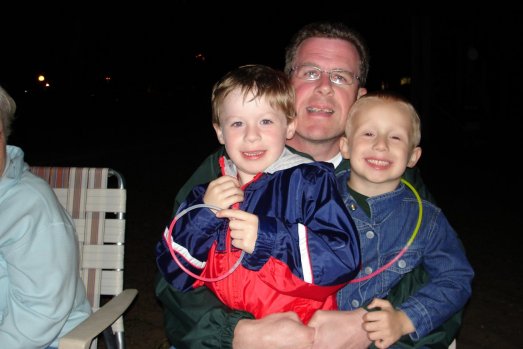 A couple of happy boys being held by Uncle Chuck. Btw, at this point we had moved off the beach back to some grass, the sand bugs were getting a bit annoying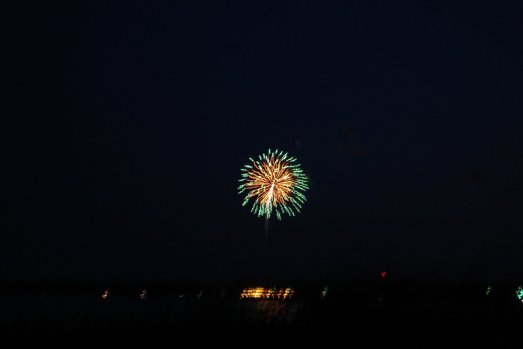 Ooooh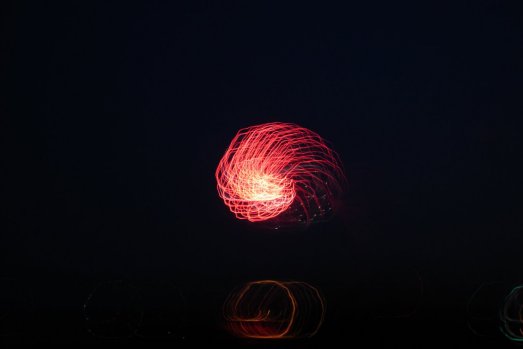 Ahhhh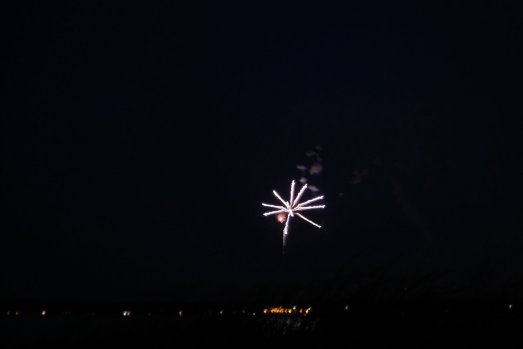 Ooooh Ahhhh