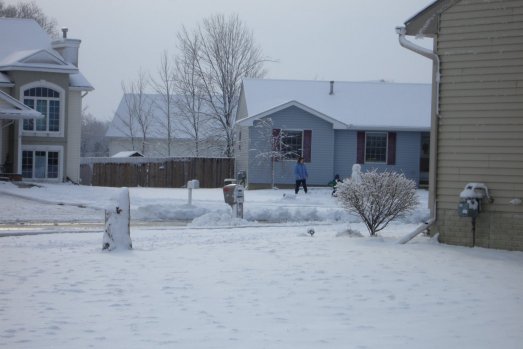 Winter fun! I'm actually on the other side of the cul-de-sac blowing some snow for the neighbors while Mama is chasing the boy around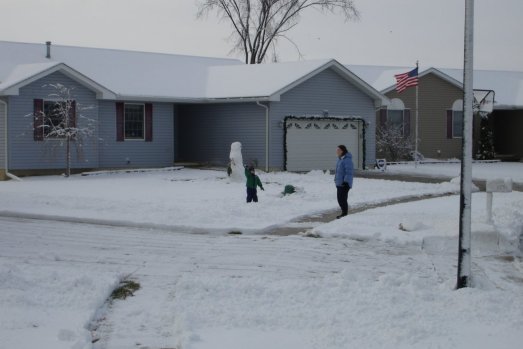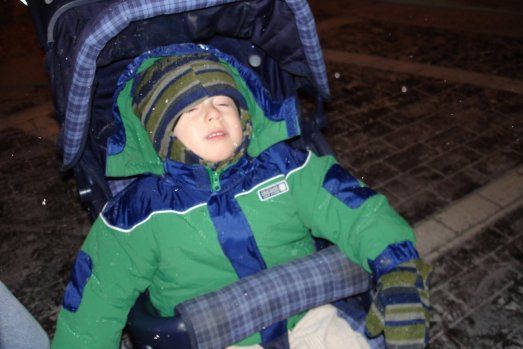 And here's our little snow angel waving back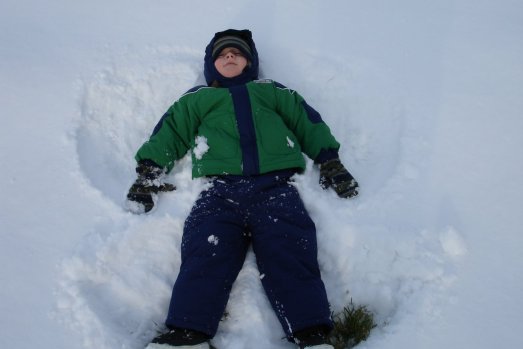 Speaking of snow angels, who doesn't like making them?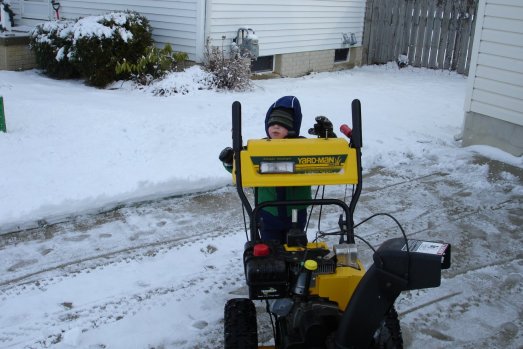 Jared helping out daddy with our big snowblower, lovingly nicknamed The Beast!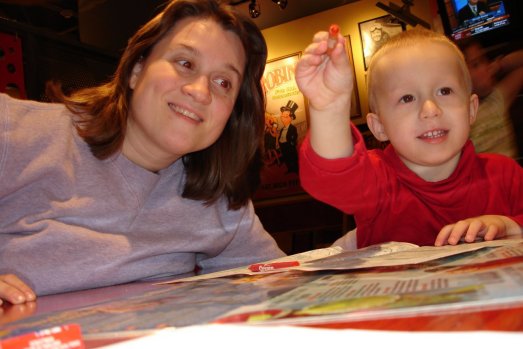 And here begins the birthday marathon. First we visited Red Robin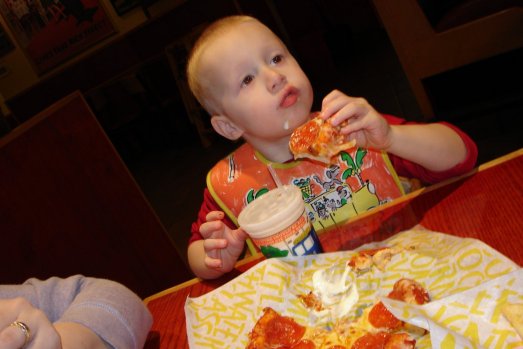 For some yummy pizza and burgers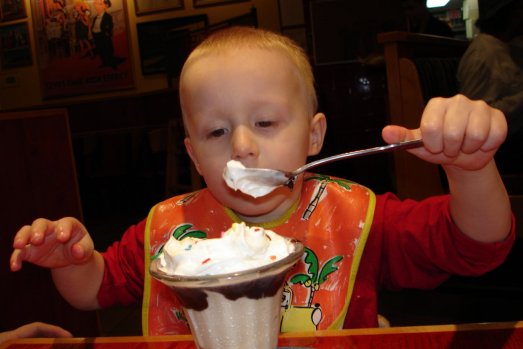 ...and of course, the birthday ice cream sundae, yum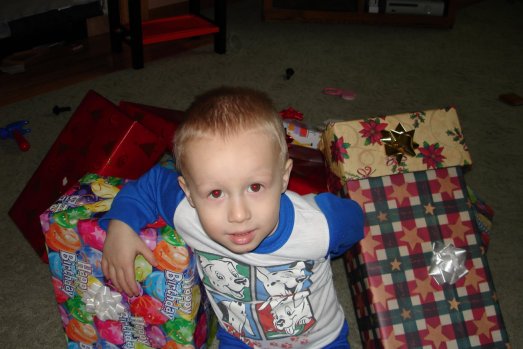 Here we see Jared showing great restraint, posing for a picture in front of his gifts. We actually gave him his gifts on 1/13, because that's when we celebrated his birthday later that day with friends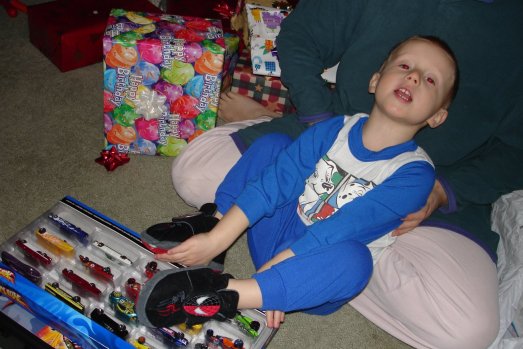 Great Aunt Nancy and Great Uncle Bill got the boy some Hot Wheels, and man does he love them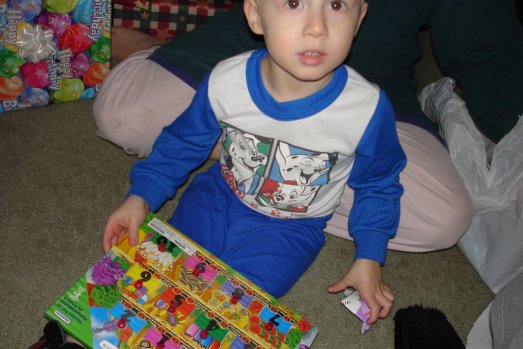 And now some puzzles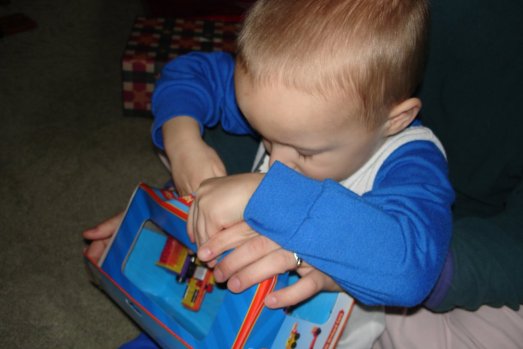 Oooo, and some Thomas cars for his train set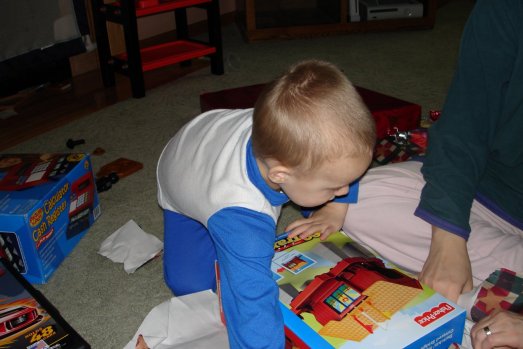 And a neat new bridge for his GeoTrax set downstairs. When it comes to Jared, you can't go wrong with trains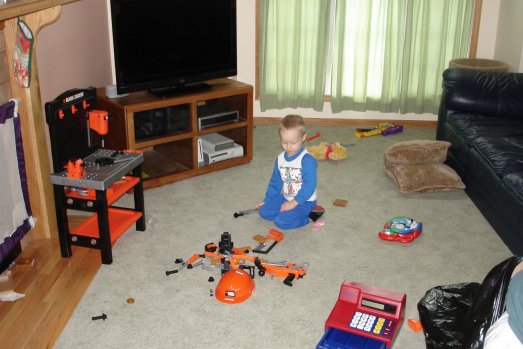 And some neat new tools to use with his toolbench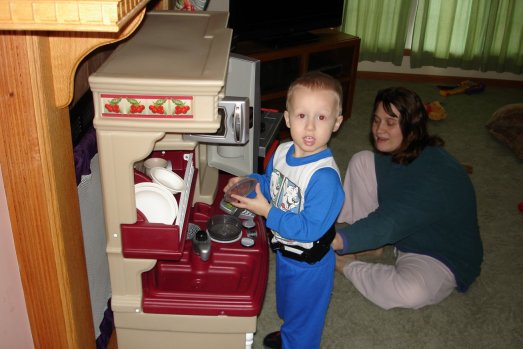 Now the big surprise, his very own kitchen! It comes complete with sizzling skillet and bubbling pot. Jared loves cooking up meals for Mama and Daddy now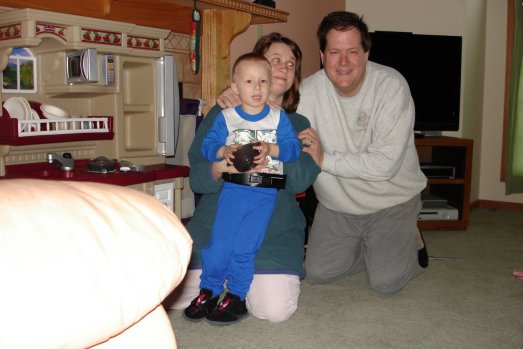 Happy birthday Jared!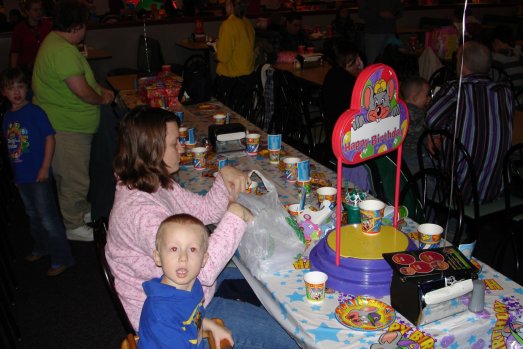 And here's later, at Chuck E Cheeses!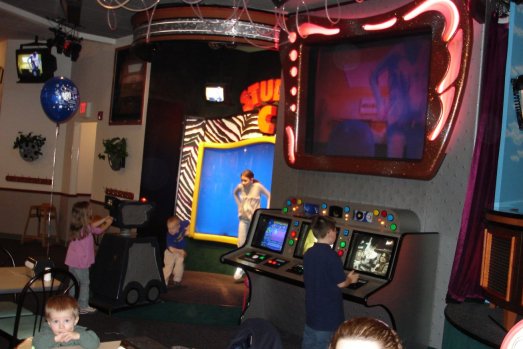 Jared getting down with his bad self in front of the video camera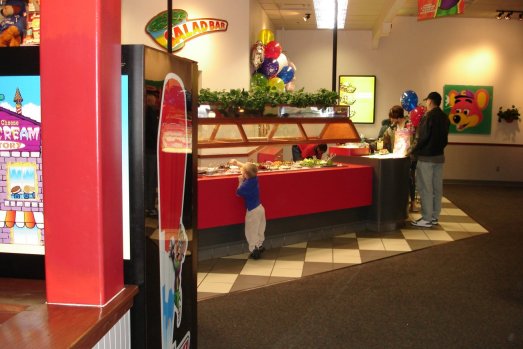 Jared stealing goodies off the salad bar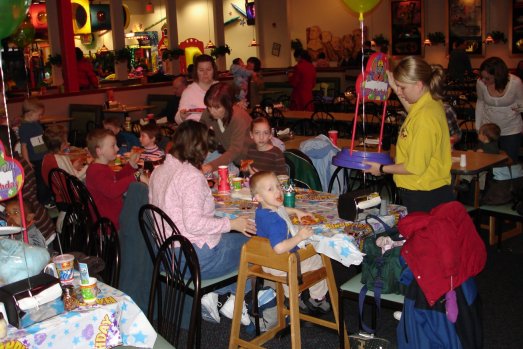 Hey folks!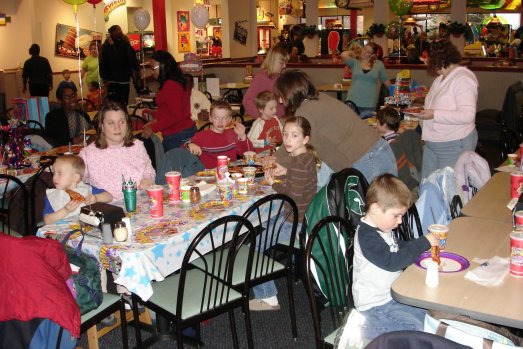 Jared and his buddies enjoying some yummy pizza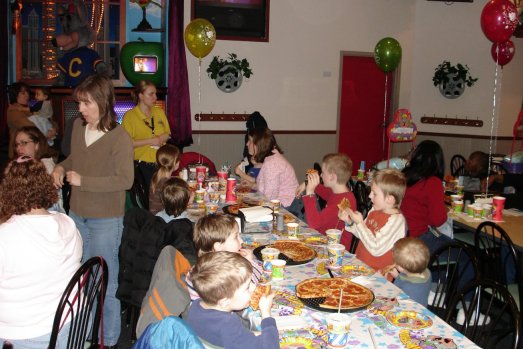 More buddies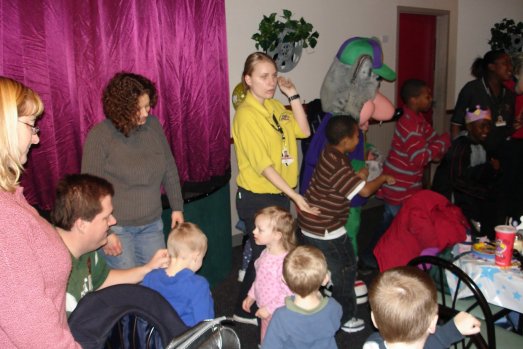 And here's Chuck E Cheese coming out to visit with the kids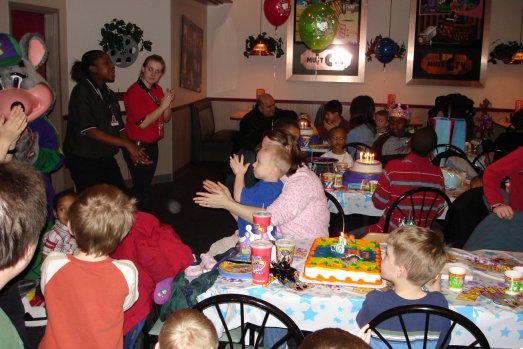 Jared enjoying his private Chuck E Cheese show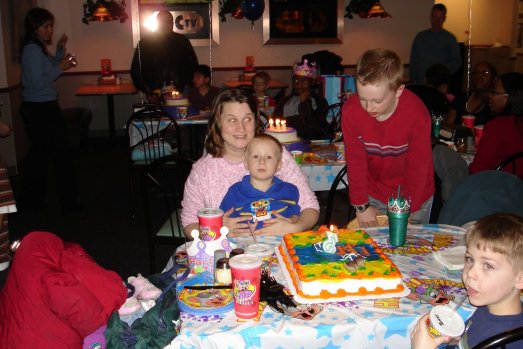 There's your cake boy, make a wish. so yeah, the funny thing was that he picked the exact same cake as last year with the roaring dinosaurs. Hey, it's his birthday. If he wants dinosaurs again, he gets dinosaurs again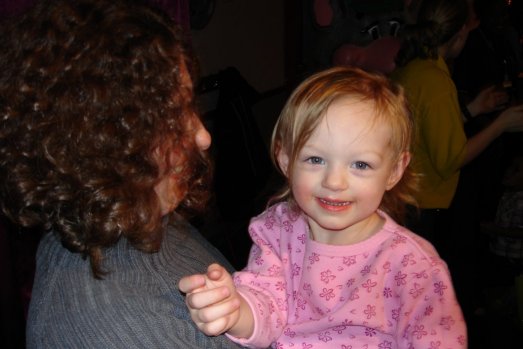 Here's a shot of Melanie and her mom Tina who came all the way from Lansing to celebrate with the boy. Melanie is only a few months younger than Jared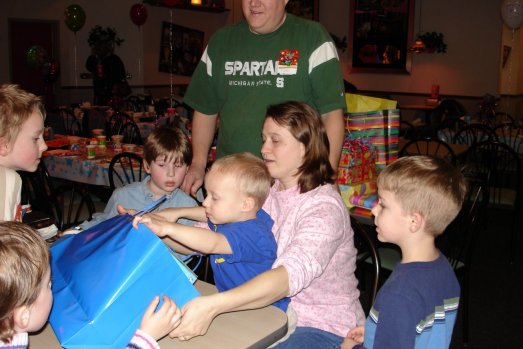 Presents!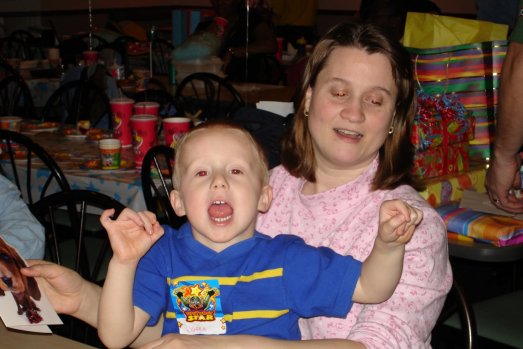 Happy birthday to me!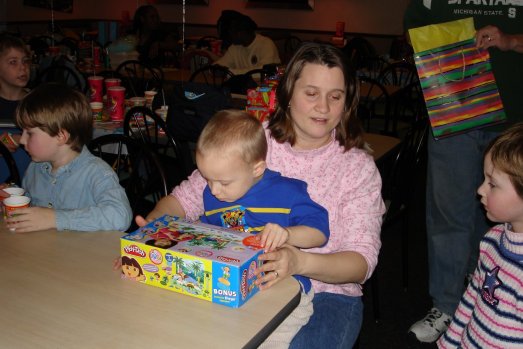 Oooo, Dora. Me, I just don't get the whole Dora/Diego thing. Then again, I'm not three years old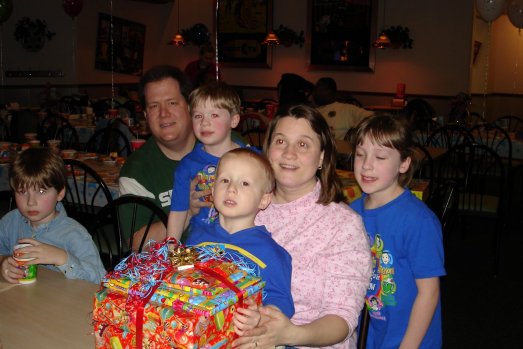 Happy birthday Jared!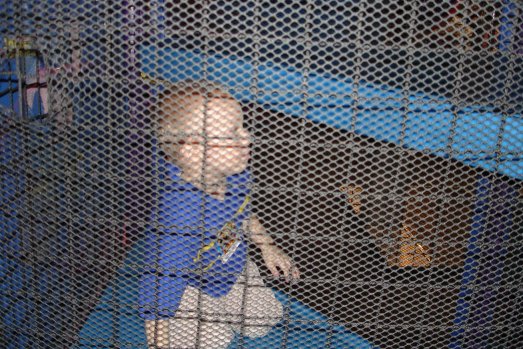 And here's when we trapped the boy in the play structure so we could have some peace and quiet. Kidding. Ok, not totally kidding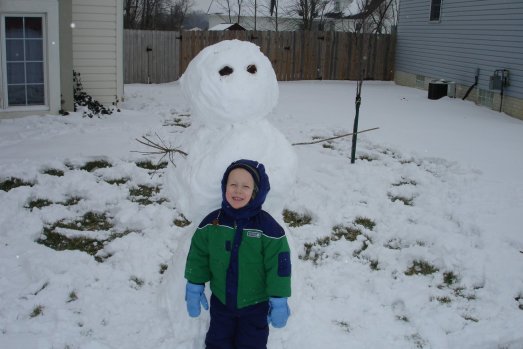 Jared's huge new snowman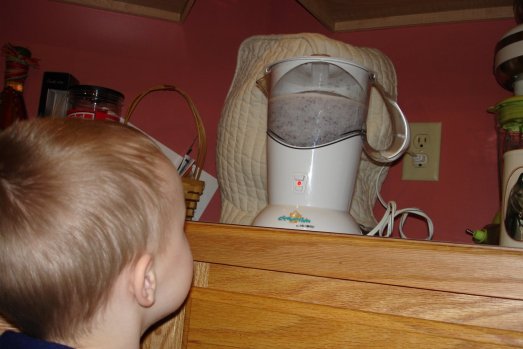 And here's a shot of the boy waiting patiently for some hot cocoa after a day in the snow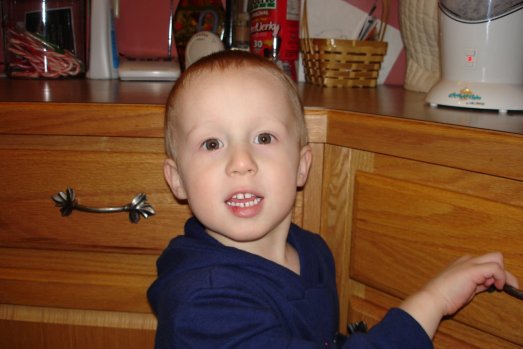 I can't wait Dad!

Note: I've been recently promoted to "Dad," though I much prefer "Daddy"