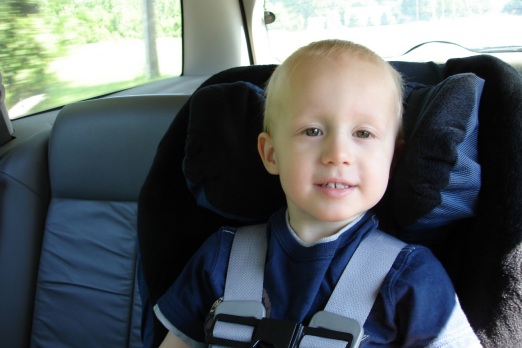 Jared on the way to another day of fun at Greenfield Village and the Henry Ford Museum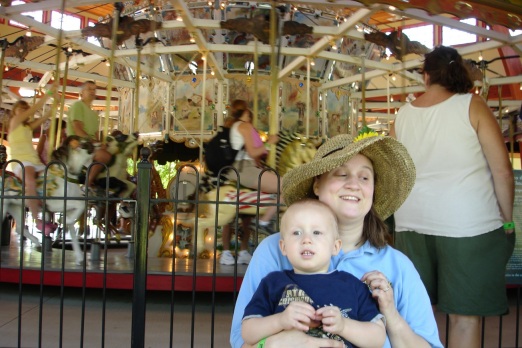 Jared psyching up for a carousel ride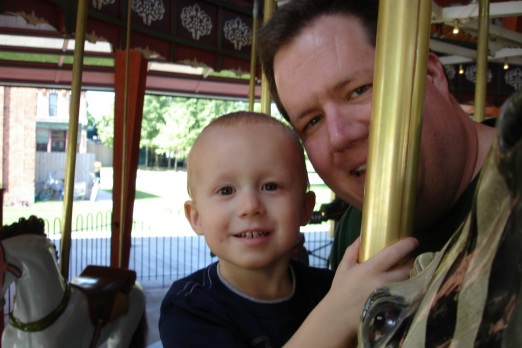 Daddy and his favorite boy in the world enjoying a ride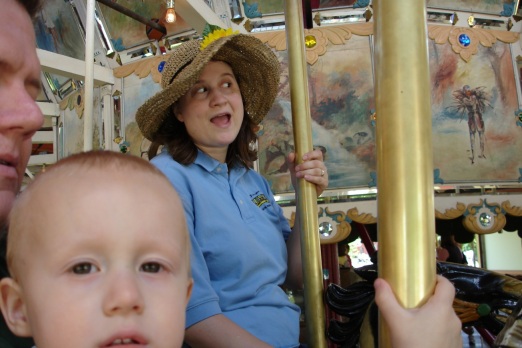 Mama enjoying a ride too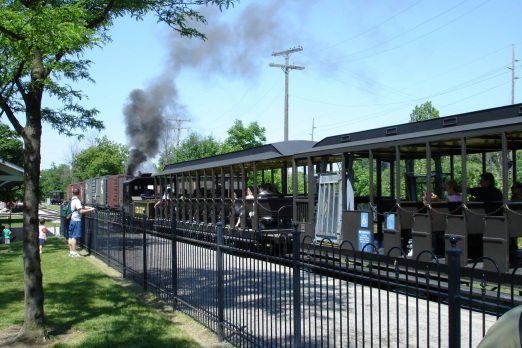 Can't visit without riding the train, no way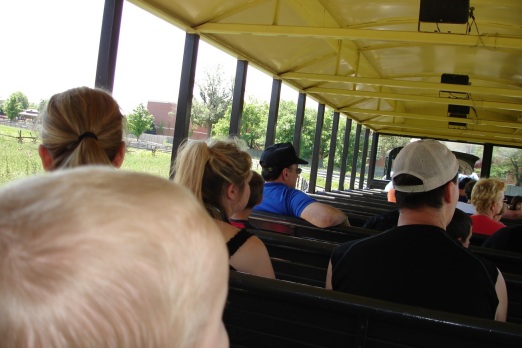 Jared trying to get a look at the engine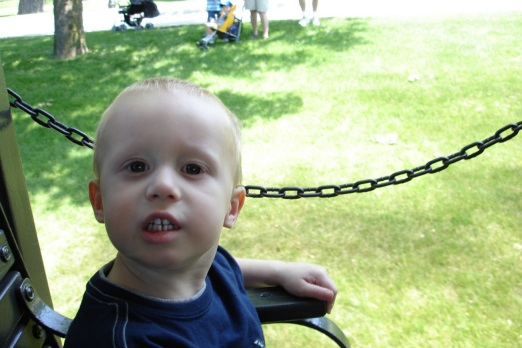 Jared's goofy "cheese" grin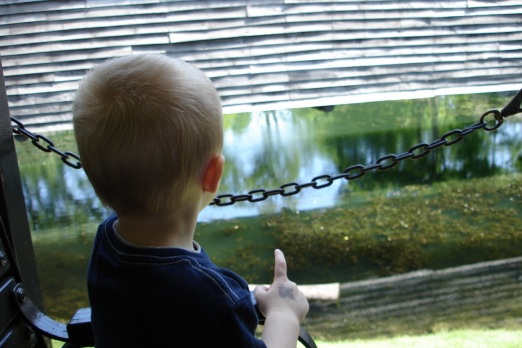 Jared checking out the view of the lake from the train car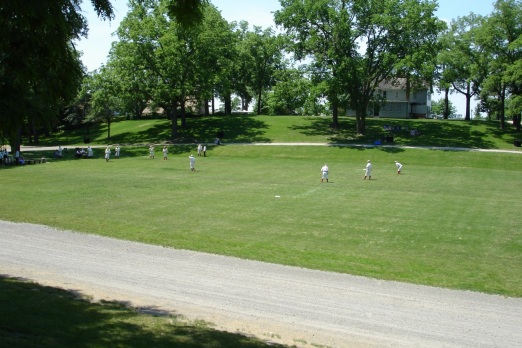 This was kinda cool, it's an 1800's style baseball game being played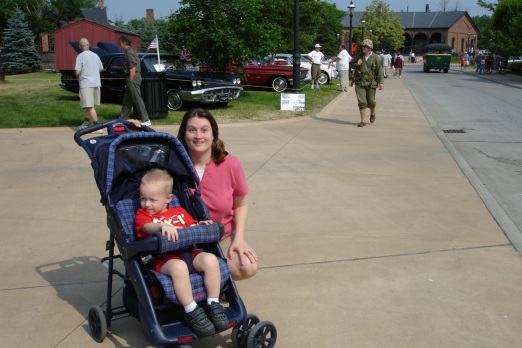 And here we are at Greenfield Village on a different day (note the shirt change). Yes, we really like the place, but we have an annual pass, so it's cool that we'll come one day to visit one part, another to just ride all the things*, another to visit another part etc. This way we can just spend a few hours and don't have to cram everything into one visit.

* As it stands, we still end up riding everything every time we come anyway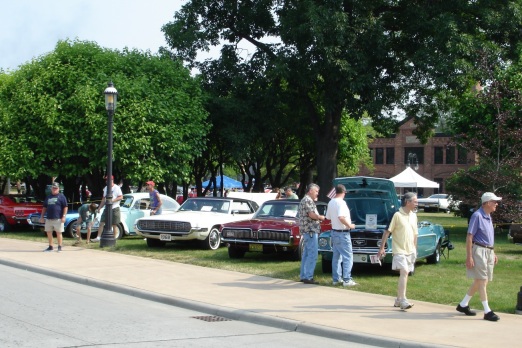 So the these today was classic cars from the 40's to the 70's. It was pretty neat seeing all the vintage automobiles and Jared really seemed to dig them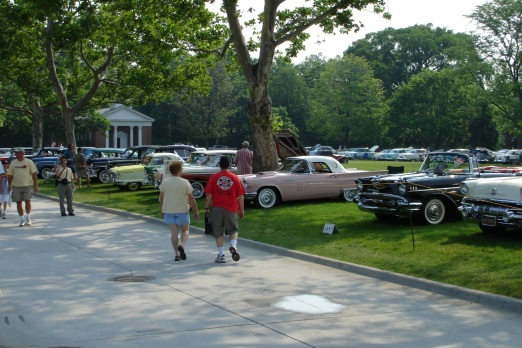 Lots more cars, they had something like 400 of them displayed all over the place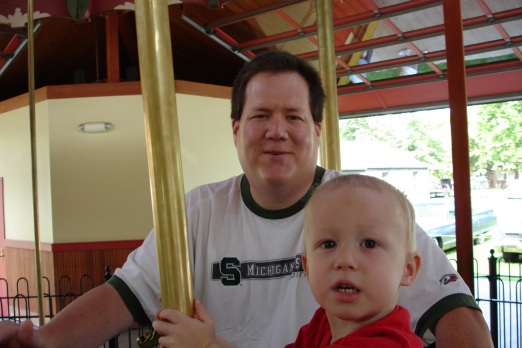 And of course, a carousel ride for the boy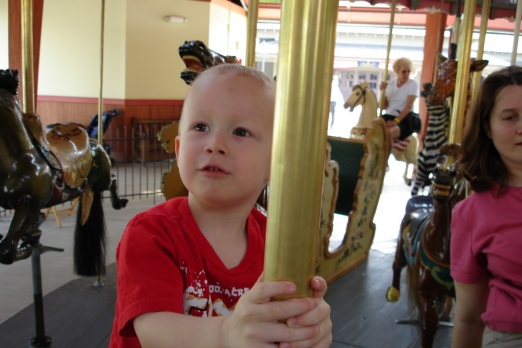 Jared daydreaming of something pleasant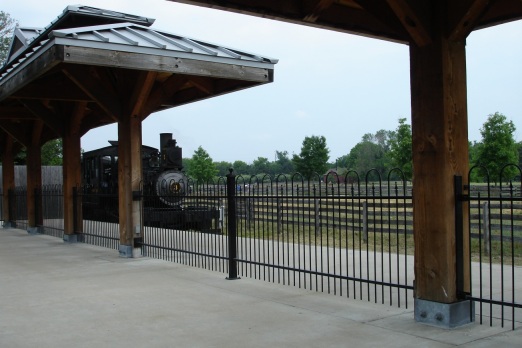 Here's the train again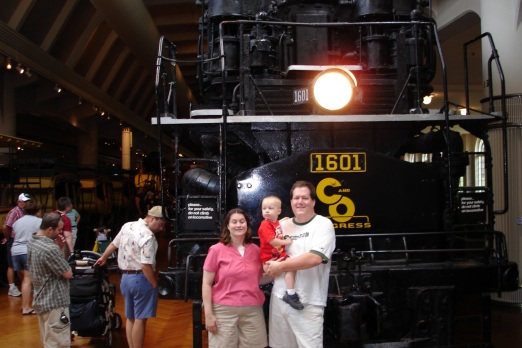 And now we're in the museum, in front of the MASSIVE Chesapeake & Ohio engine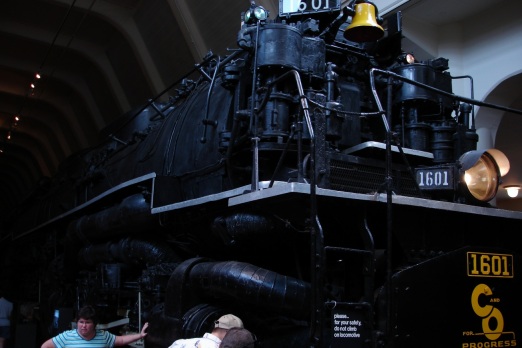 Another shot of this awesome engine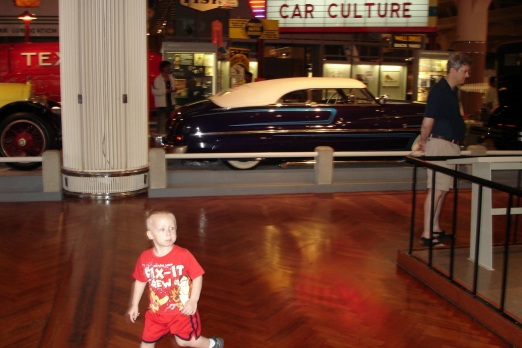 Jared taking off into the 50's section. The boy's got legs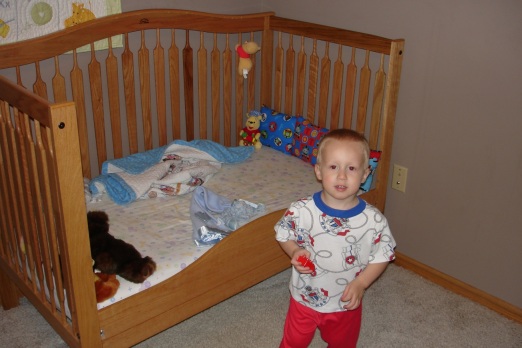 Ok, so here's a cool event. A couple days before this picture, Jared decided that it was time for him to climb out of his crib. We should be glad he waited this long. So, in honor of this, Daddy converted the crib he made into toddler bed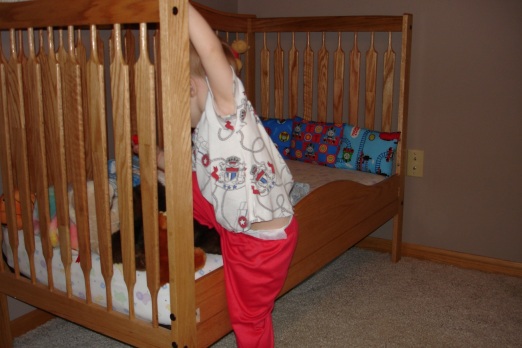 Jared climbing in for the first time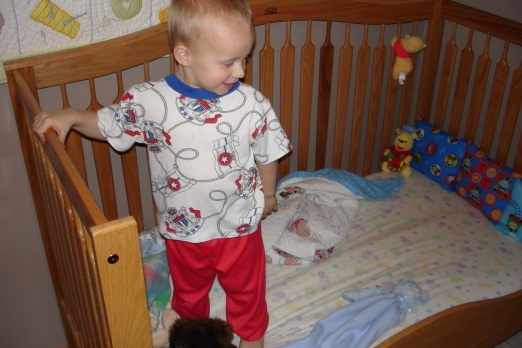 "Hey, I like it Daddy!" says the boy who refuses to STAY in it come bedtime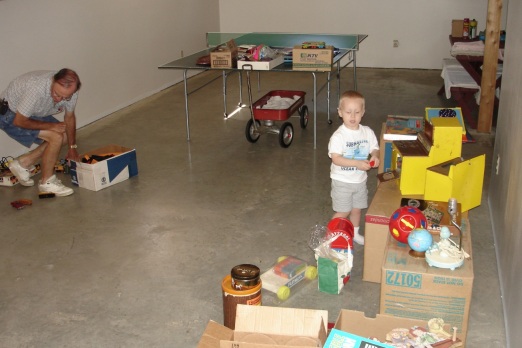 Jared and Grandpa Travis sorting through lots of Daddy's old toys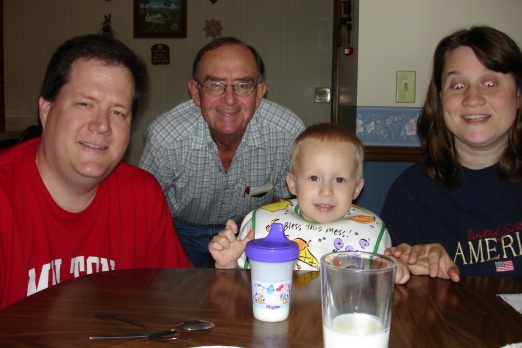 Up on a visit to Lansing, smiling for the camera after a tummy full of black raspberries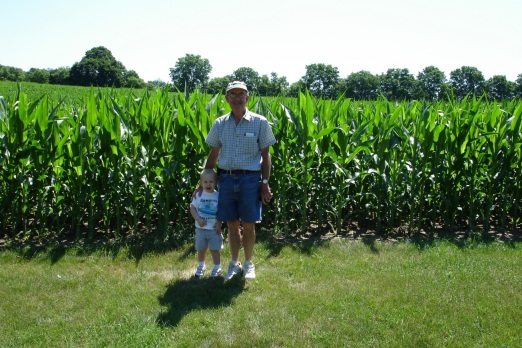 Jared and Grandpa Travis posing in front of the cornfield behind their house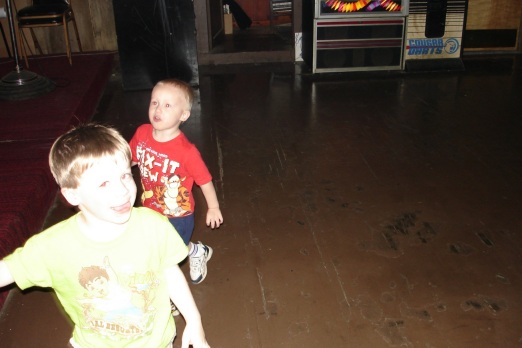 Jared and Cousin Ethan dancing in a local bar on a visit up to Aunt Debbie & Uncle Chuck's cabin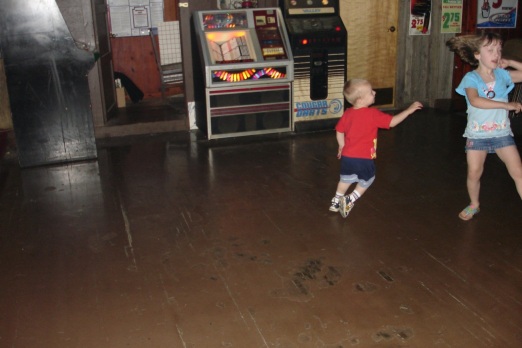 Jared dancing around Cousin Samantha now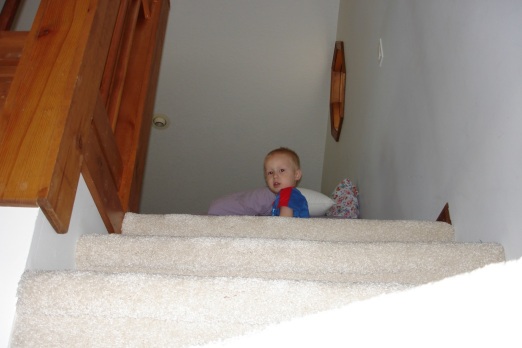 Here's the buy up in the loft area of the cabin, playing with trains if you couldn't guess (the boy loves his trains)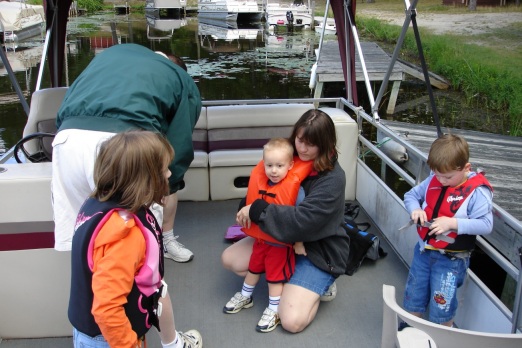 Getting suited up for a ride out on the pontoon boat, what fun!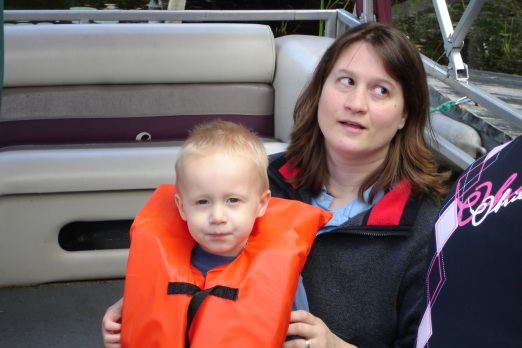 Jared in his first life jacket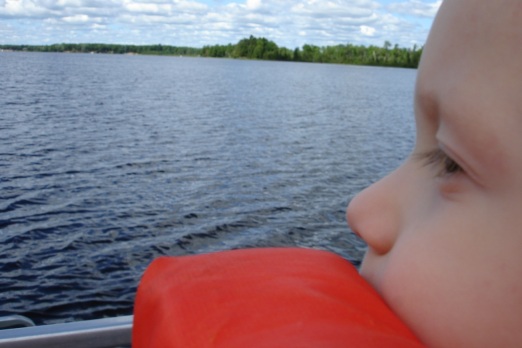 ...looking out over the still waters of the lake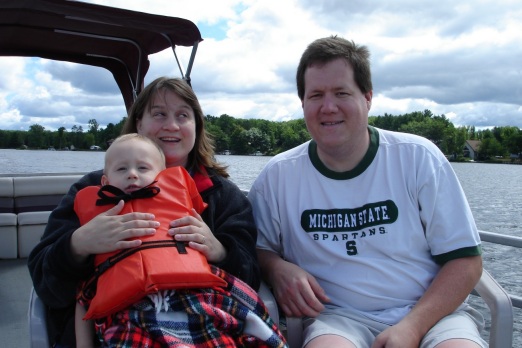 Here's the family posing for a pic out on the water. Jared seemed to really enjoy it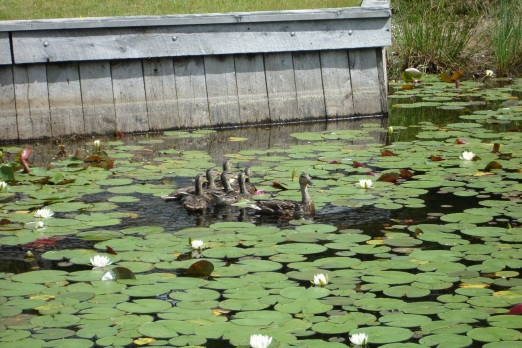 As we came into dock, we came across a family of ducks enjoying a swim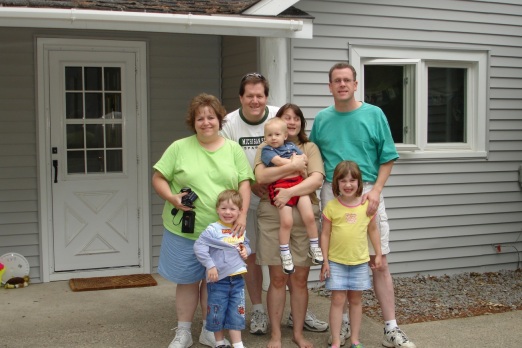 And here's everyone posing before we say goodbye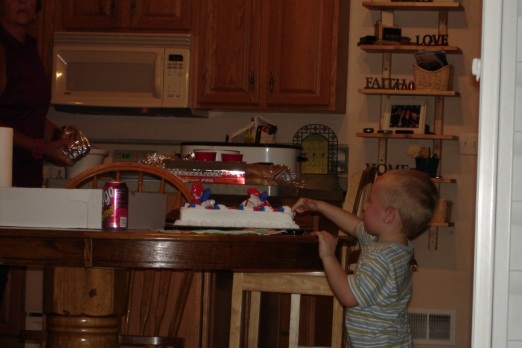 Switching around now to another event, for the Fourth of July this year, our neighbors held a party, and here's the little sneaky boy snatching a pre-taste of the cake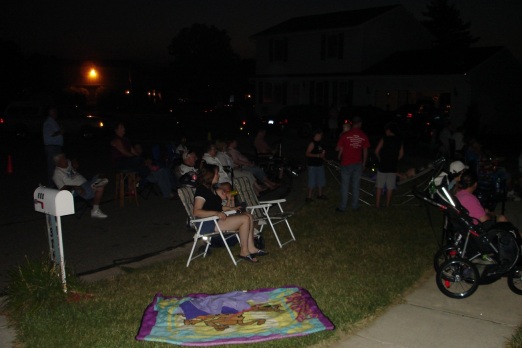 And here's a dark picture of Mama and Jared watching the fireworks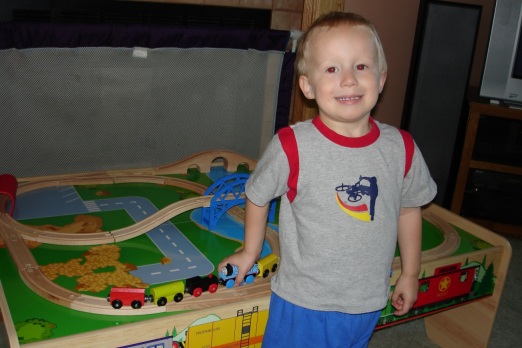 Here's a happy boy in front of his new train table that Mama and Daddy got for him. It was quite an effort just get his attention away from it to take this picture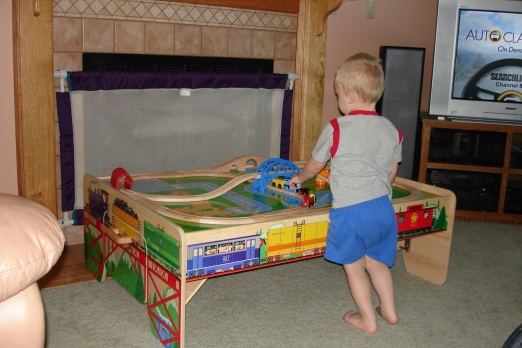 He simply loves it, because if you haven't figured it out yet, he's crazy for trains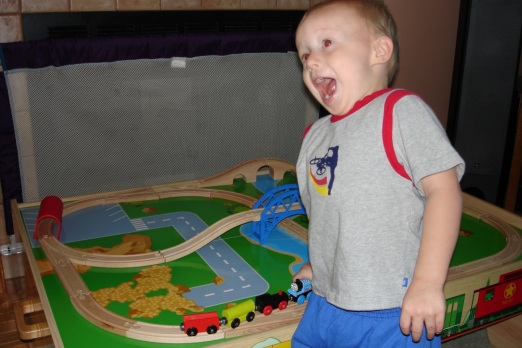 Crazy I say!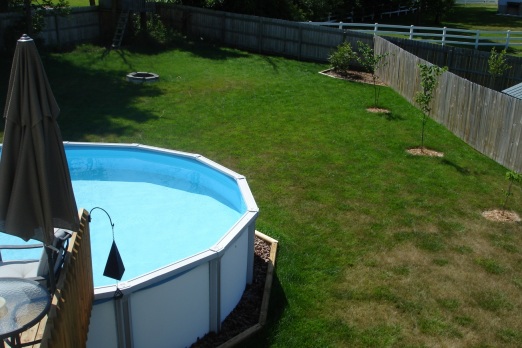 Here's a shot of the backyard, with some work I've been doing. Basically I've been installing landscape timber and wood chips/mulch to help border off certain areas from the grass. It looks nice and it makes mowing a LOT easier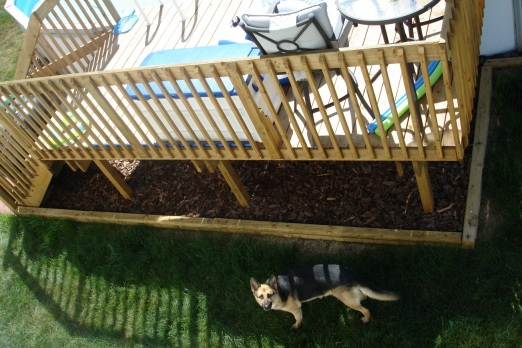 And there's Maybelle enjoying her yard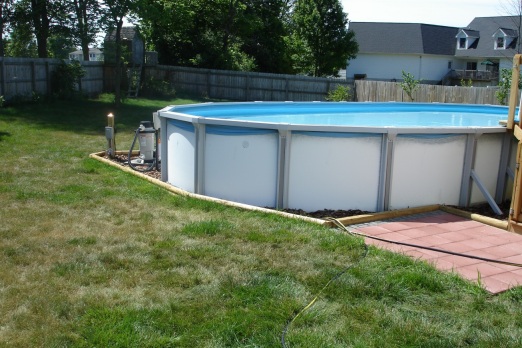 A shot of the other side of the pool with the new border and the new patio too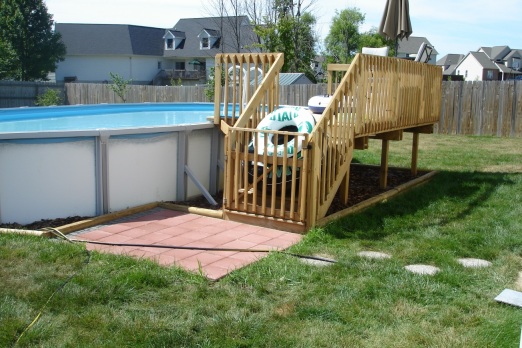 Nothing fancy, but it sure is better than the outdoor carpet we used to have out there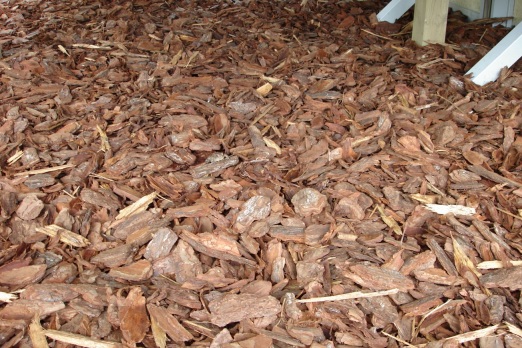 And here if you look closely in the woodchips under the pool deck, you'll see a toad.

If you look even closer, you'll see two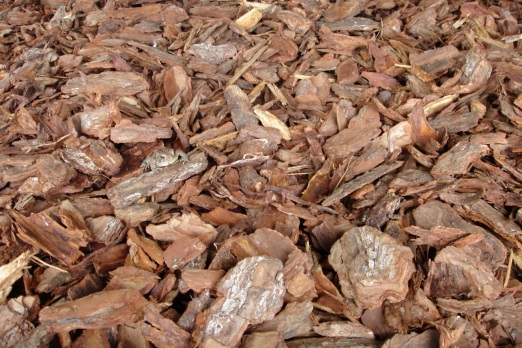 Here's another shot that shows them more easily