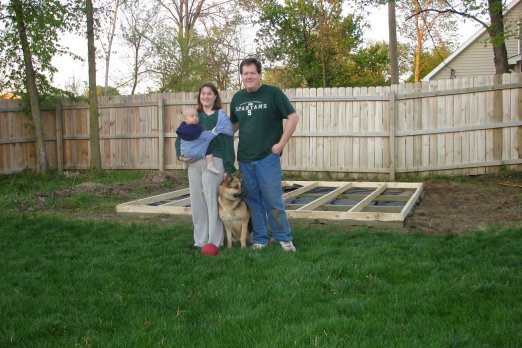 Ok, it's not really a fall thing here, but here's a project that seemed to take all summer, what with my surgery and all. Anyway, stage one, the foundation. Neighbor Kevin helped out big time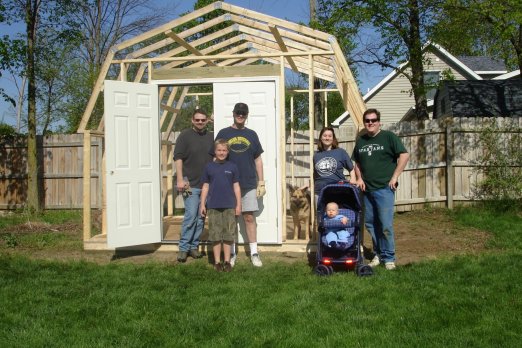 Stage two, the framing. Big thanks to Kent, Dave and his son Brad for helping out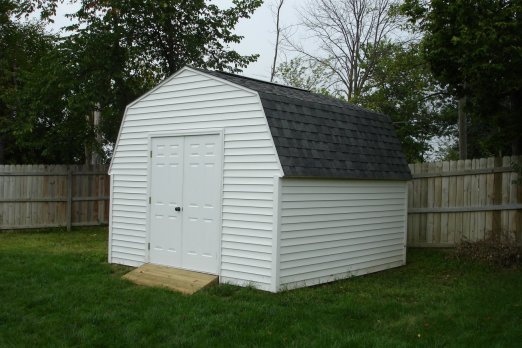 Stage three, all done! Ok, fine, not stage three, more like stage 236, but I kept forgetting to take pictures as it went along. Anyway, the final step was to install the ramp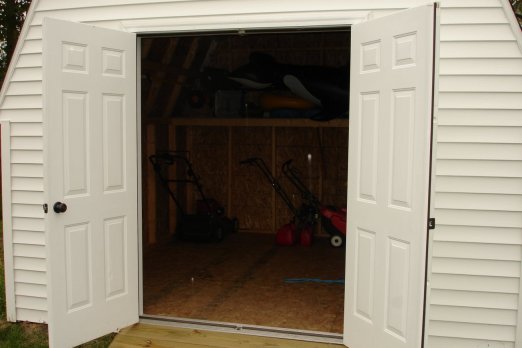 Finally I can clear out all the lawn and pool stuff from the garage, nice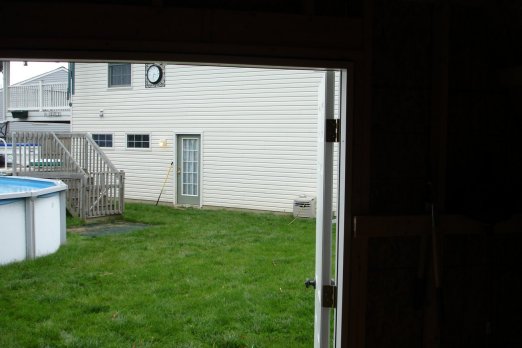 Looking out from the shed, to help give perspective. I'm so happy how it turned out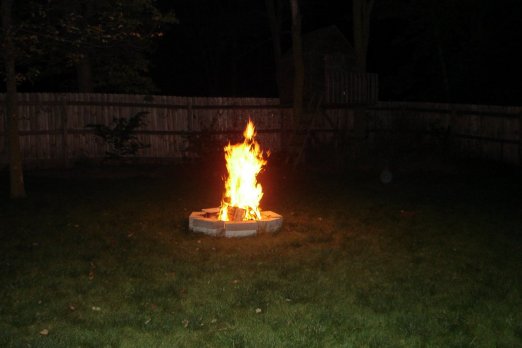 It's been a year now in our new home now, so here are a few shots of a fire in the fire pit. They actually have nothing to do with one another, but hey, the pictures are still cool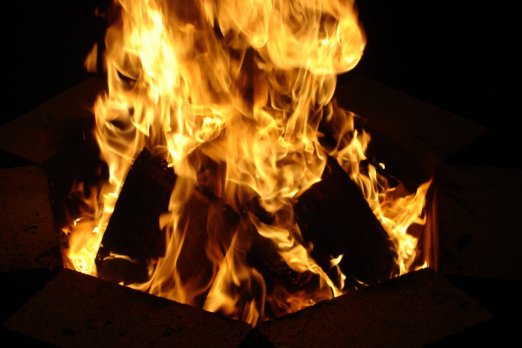 There's something so primitive and mezermizing starting into the flames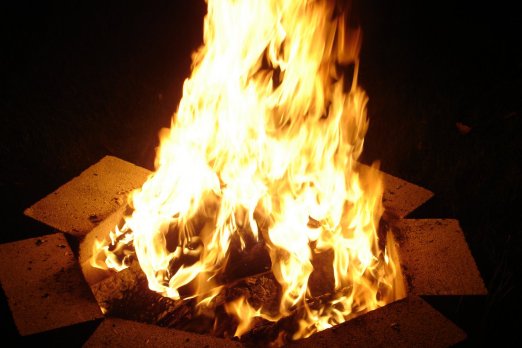 She's a pretty good sized one, that's for sure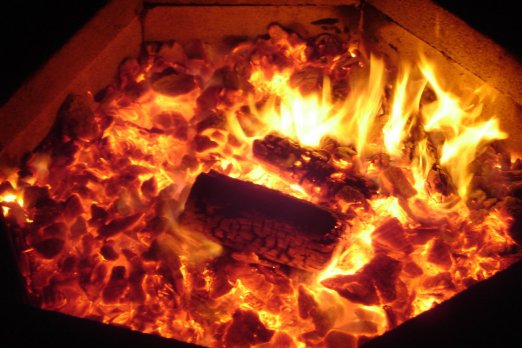 And a shot as the embers begin their slow descent into cold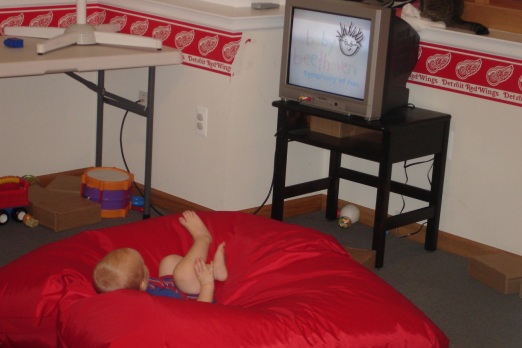 Jared hanging out on the bean bag enjoying one of his favorite videos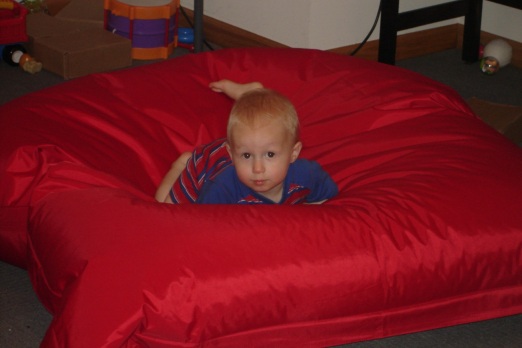 Hey Daddy, I see that camera!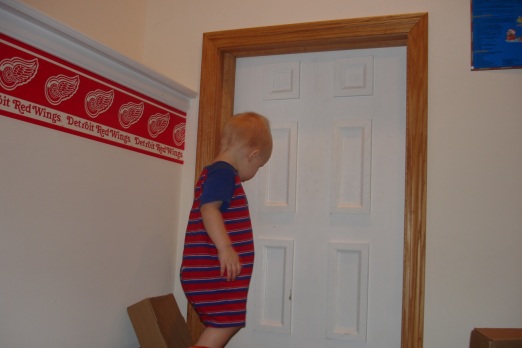 Jared ready to head into his secret room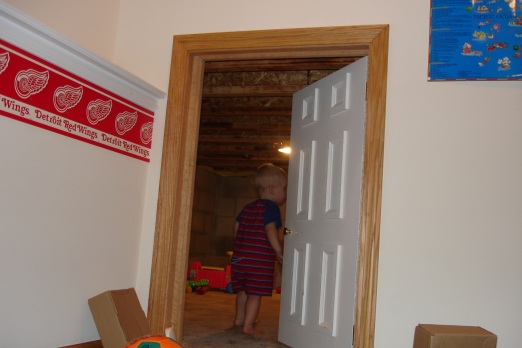 Ooooo, more toys, and right where I left them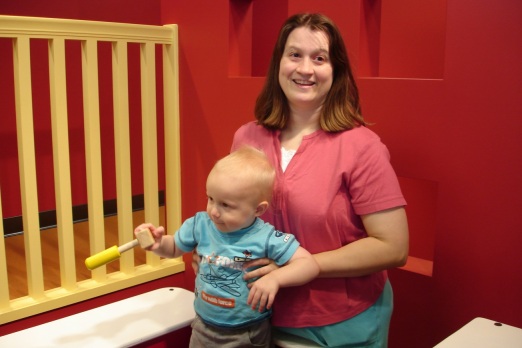 Here's a shot of Mama and the boy at a local playplace called Urban Toddler. It's a cute little storefront place laid out with various activity rooms where the kids can play. You pay $5 and the kid can stay there all day. Of course it's not daycare, and you have to supervise, but it's a fun place to roam and play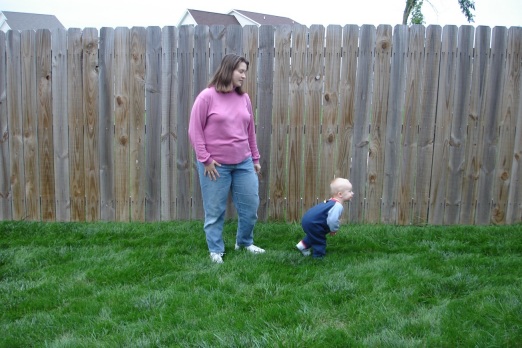 Mama and the boy haning out in the backyard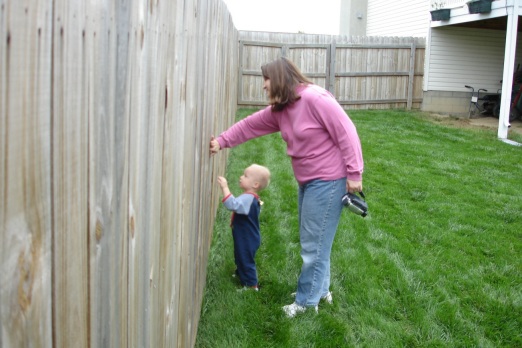 Saying hello to the dogs next door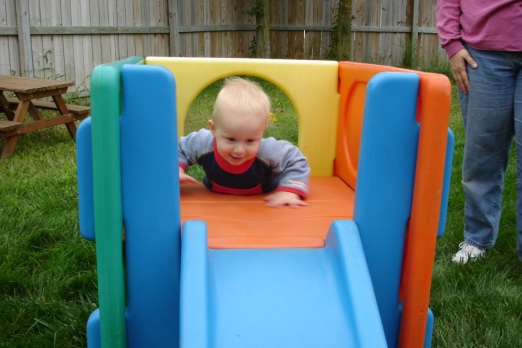 Jared enjoying some time on his activity cube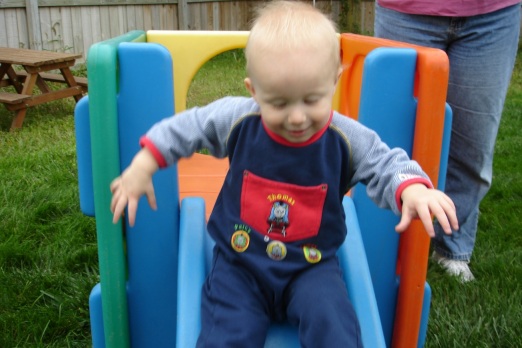 Wheee!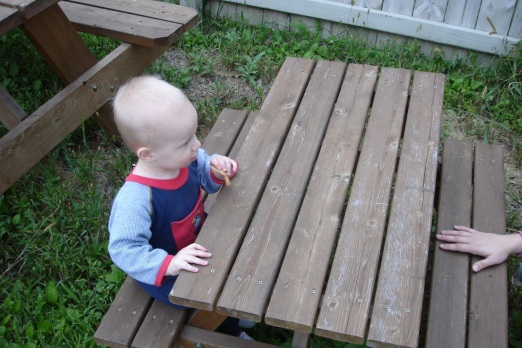 And my boy enjoying a leaf snack on his mini picnic table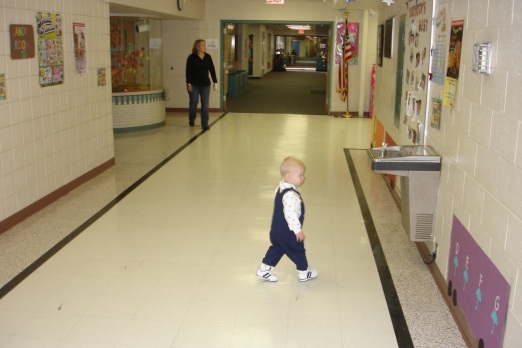 I only got a couple shots here from an activity Jared had at his playgroup, but this is basically the boy wandering the halls of his eventual grade school. I guess he's thirsty here. Also, that's Heather, a playgroup monitor in the background




Yes, he can run, and run fast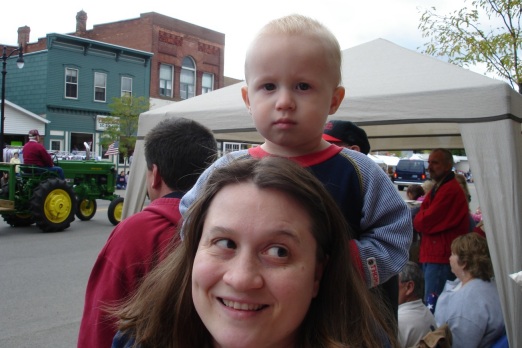 Here's a shot of Jared on Mama's shoulders during the parade at the Clinton Fall Fest, one of the best art fairs, carnivals around. Jared smiles all day long until this one time the camera was pointed at him. Oh well.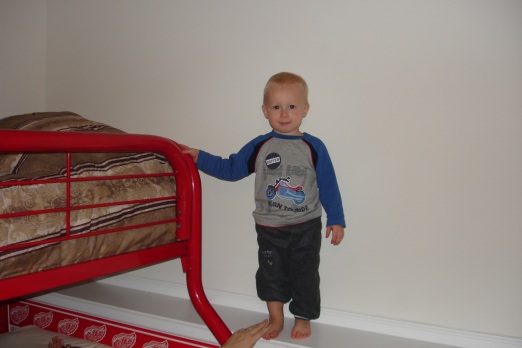 Jared discovering the raised shelf lining the playroom, much to Mama's chagrin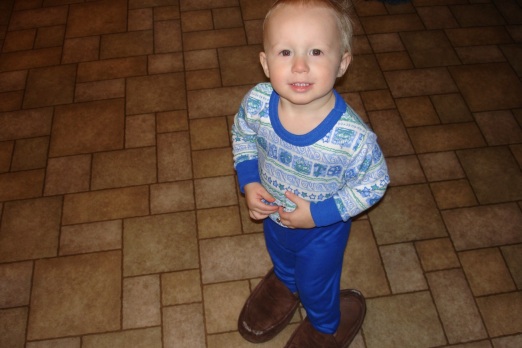 Here's the big boy in Daddy's slippers. They don't quite fit, yet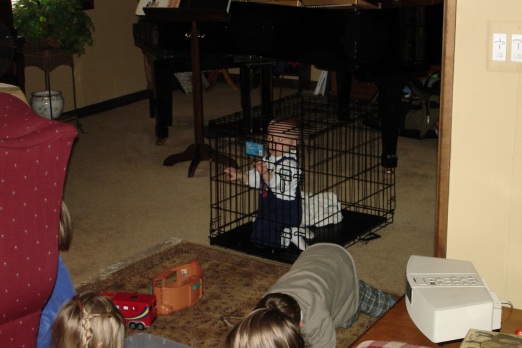 Before we went to our friends, Omar and Shannon's wedding, we stopped at "Grandma Thomas'" house to meet up with Jeff, LeeAnn and the kids. Here we see Jared closing himself in the cage. See, it's just like Maybelle's cage, only a bit smaller. No, we didn't put him in there, this time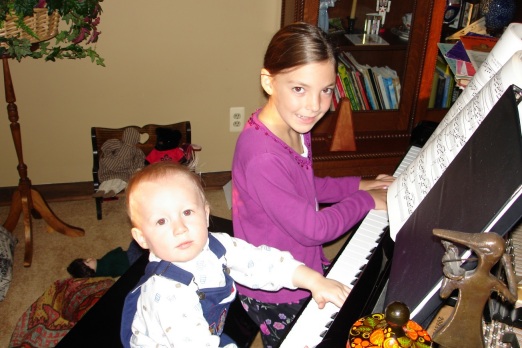 Jared pounding out some tunes with Leah Thomas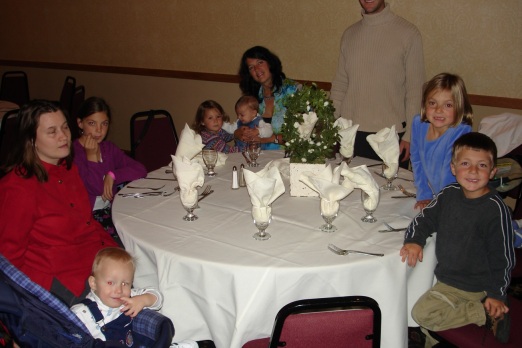 And here's the whole Thomas family with Tara and Jared at Omar and Shannon's wedding. Left to right is Leah, Karis, Margo, LeeAnn, Jeff (headless), Erin and Ross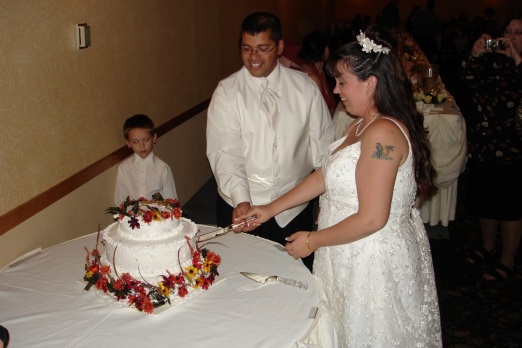 And a shot of the happy couple cutting the cake. Omar is one of Scott's best friends from high school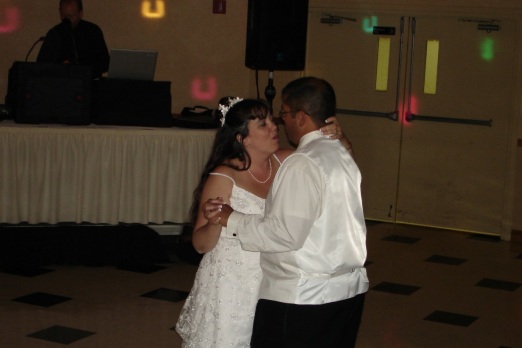 Awwwwwww, the happy couple enjoying some quiet time on the dance floor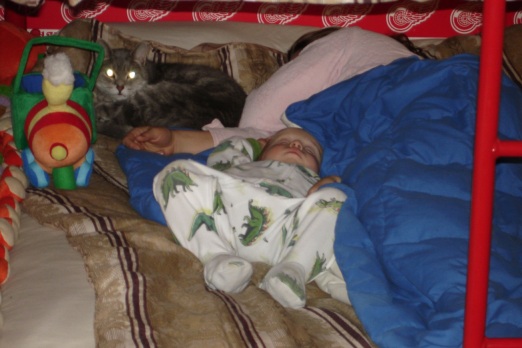 I don't know when this was taken, but just one day I noticed it was very quiet in the playroom and went to investigate, and look what I found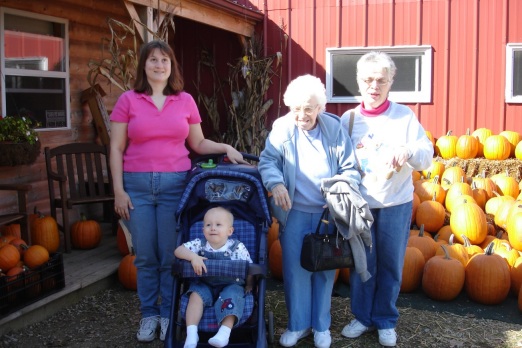 Here's Mama and Jared enjoying some apple cider at the Apple Hut over in Beloit, Wisconsin with Great Grandma Gray and Great Aunt Carol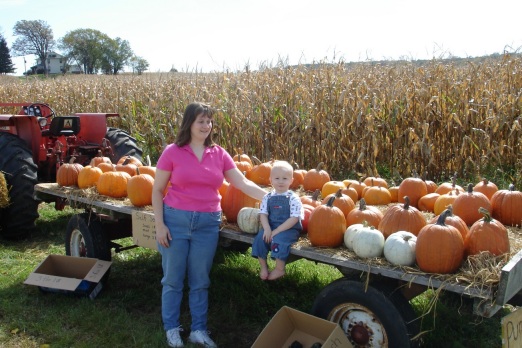 And here's a shot I absolutely love taken at Cousin Ron's pumpkin stand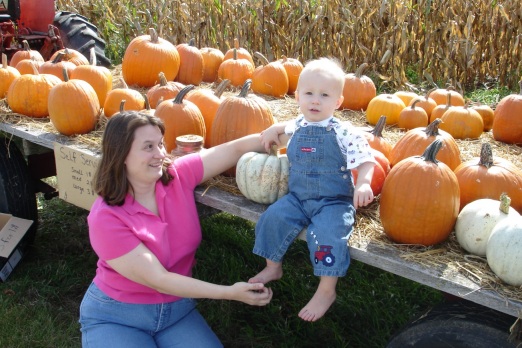 Closer and even cuter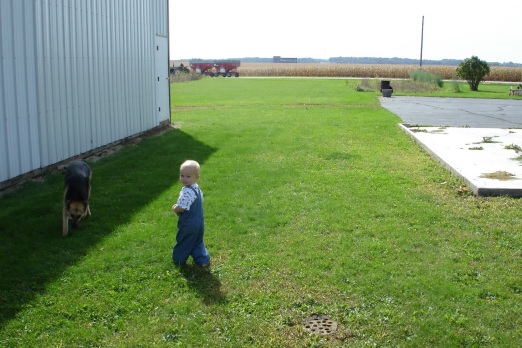 Running around the yard at Great Grandma Gray's, hanging out with Maybelle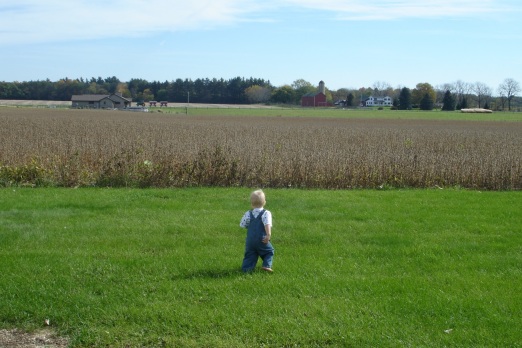 Off into the soybeans!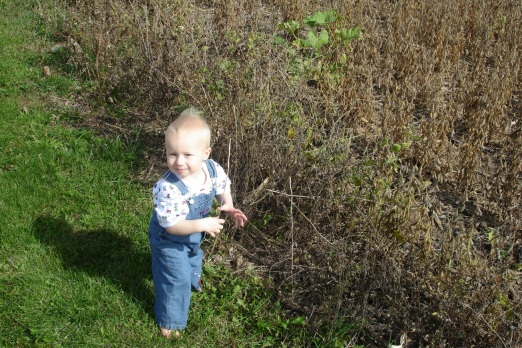 Ok, maybe not Daddy, these things are prickly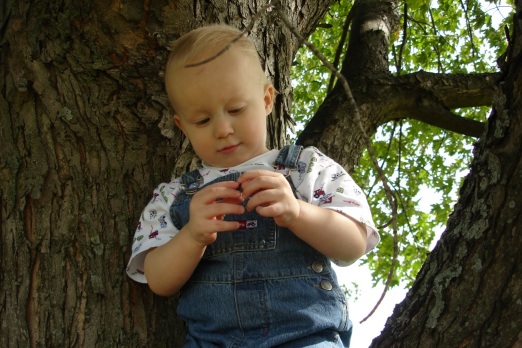 I love this shot of him in the tree. This would actually be his first time in a tree at that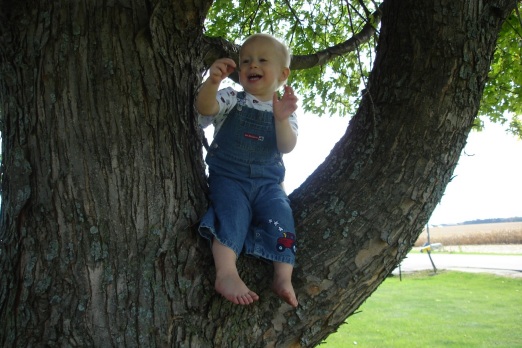 Don't freak out, Mama's got a hold of him from behind. But isn't that cute?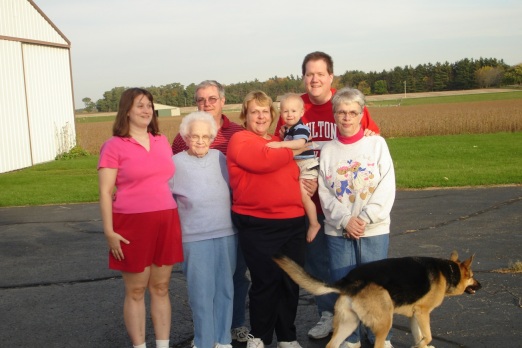 And just before we left back home, Great Aunt Nancy and Great Uncle Bill overlapped their visit for a couple hours. It was nice seeing them again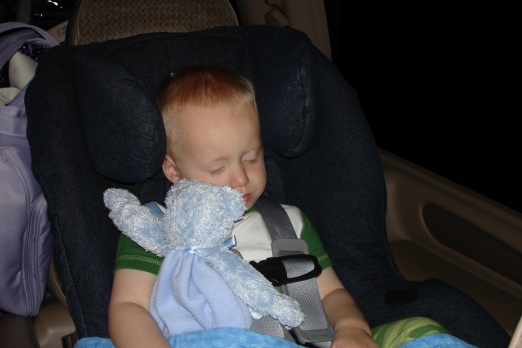 And here's the boy wiped out on the trip back home to Michigan