SEAT (Corbin: Past Project)

I just don't get why stock seats on motorcycles are not very good. It's probably to help keep the base price of the bike down (good seats cost at least $500), but why it's not an option for upgrading, that throws me. Put a few hours on most stock seats and you'll be begging for mercy. There's plenty of aftermarket seats out there, but that begs the question of what to do with the stock seat. Personally, I'll sell the stock seat, or any other stock item I'm upgrading for that matter, on ebay and consider any money gained as a "discount" of sorts off the new one.

I don't know of many owners that haven't upgraded their seats to something better, and at the price a custom seat goes for, it can't be just for vanity. As for Honda cycles, the stock seats simply seem too soft and are usually pretty bland when it comes to styling (i.e. solid black). Me, I look for the following aspects in a good seat:
It should be firm (let the bike's shocks take care of the cushioning)
It should distribute the weight evenly, preventing any localized butt-burn
It should support the back, helping to keep it straight
It should be easy to clean and maintain
It should last many years (again, they aren't cheap)
It should look cool
After that, it's all gravy.

After checking around all the options, I decided to go with the Corbin model. Why? Well, Corbin has been in business since 1968, so I felt they had to be doing something right. Also, their website was very helpful in both picking out the correct seat, as well as installing it. For the base price of the seat, you also have a whole bunch of options as for materials, colors, textures, stitch designs, etc. This was perfect in allowing you to get a seat that matches the styling and color of your bike specifically. Leather is arguably the best material in that it breathes (to prevent mildew), is quite durable and hey, it's a motorcycle, so leather is the way to go.

Note the seat is one piece. This restricts the adjustability of the front, but only from the topmost position. You can place it in the lowest or the second position. I prefer the second position to "level" the seat out a bit.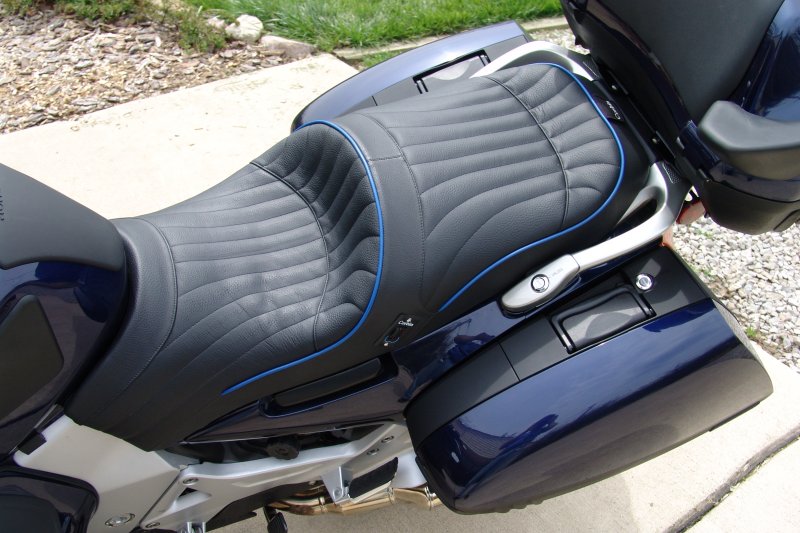 As you will also notice, the Corbin has a heating element built-in. I'd have to admit that this would be the deal-maker in a head-to-head comparison of other seats. The high setting is too hot for me, but would be great if you had a wool cushion or something. Couple the heater with heated grips and maybe add a heated vest too and you really extend the riding season in temperate zones. I'm sure it would come in handy on those chilly California or Florida mornings too.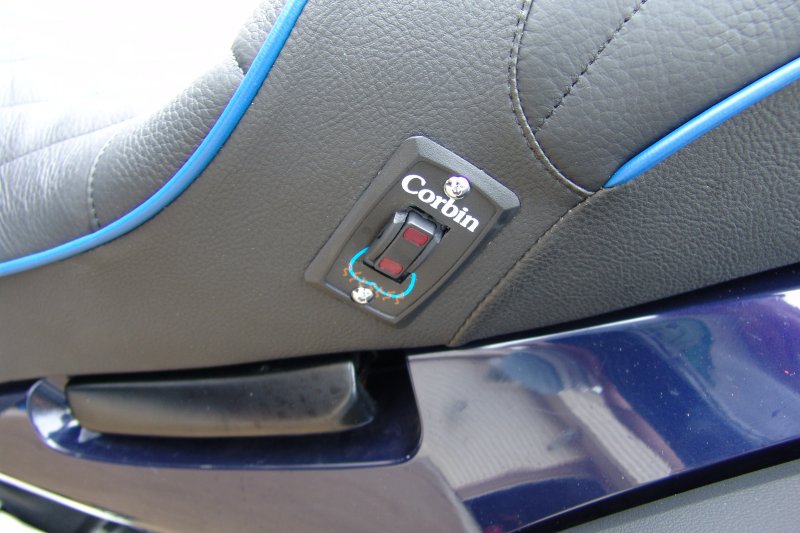 There are other seat manufacturers out there, of that there is no doubt - Meyer, Sargent, and more, but I felt the Corbin was the greatest value as well as of fine comfort for me. Until someone comes out with an integrated, butt-massaging shiatsu fingers option in a seat, I'll be quite happy with this one.

If you want the same seat, here's the details from the invoice:
Canyon Dual Sport - Close - Honda ST1300
Black leather seating, smooth #01
Tuck & Roll Stitch Pattern, seating
Black sides
Royal Blue Vinyl welt #15
There's a "standard" model and the "close" model. The website describes the differences well and gives you height/inseam examples on which you should choose. Frankly, unless you are a really huge person, I'd stick with the close. I'm 6"2" with a 32" inseam and it fits me great. Another thing I'd change is the blue piping, I wish it was a smidgeon darker. If I did it again, I'd get the #17 Honda Blue instead. Instead of using the online shopping cart, I'd suggest calling to make sure you get the colors right.

Here's a picture of me on the seat. Again, this is the close model, in the second height position and I'm 6'2" with a 32" inseam. On this seat both my feet are flat to the floor.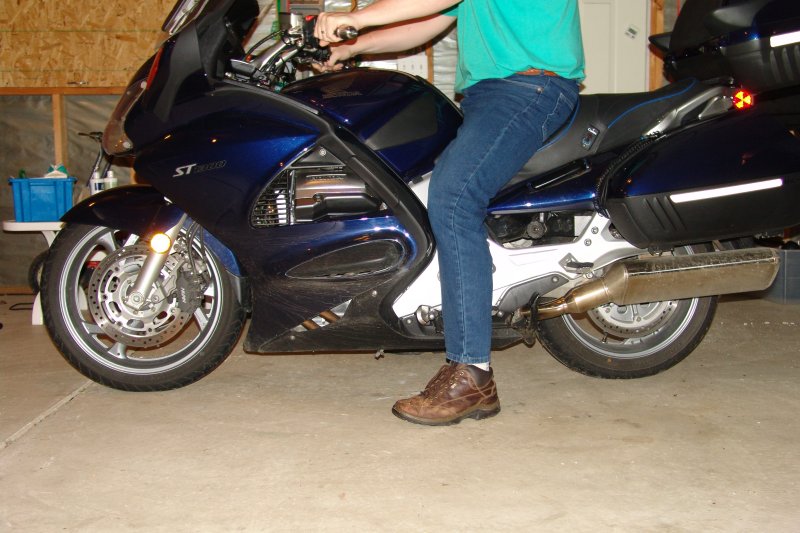 On the pegs, both legs are nicely tucked within the fairing pocket.