HANDLEBAR RISERS

Why? I'm a big guy. Plus, I don't like being hunched over on my bike. Again, I got the ST because of the touring aspect more than the sport aspect, and this is one of the "Top Two" upgrades on the ST that I couldn't live without, the other being the seat.

The Heli risers are actually one thing, the big block of aluminum in the center of the handlebars. It includes the piece the handlebars bolt to as well, as it's one solid piece of aluminum. What they accomplish is bringing the handlebars up 1" and back about 2". Plus, they tighten the angle of the bars slightly. All of this leads to a much more comfortable riding experience because you are riding more straight up in the saddle without being hunched over with your upper body weight being forced on your hands. This is especially noticeable during a stop.

While I'm not a big fan of buying expensive blocks of aluminum, especially when I think the bike should be set this way from the factory, I'm pleased with the quality of the product. It's nicely machined and looks really good. I'd be happier if they were blank and didn't plaster their name on the top, but oh well.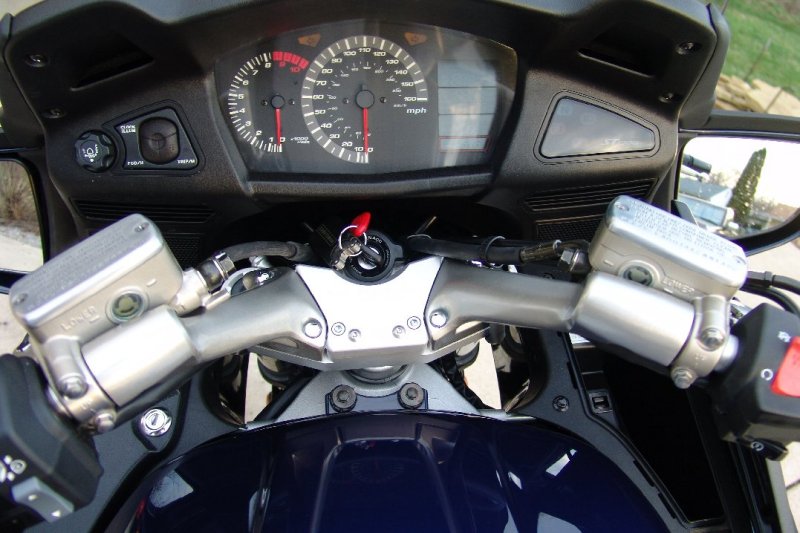 In the below shot you can see the ball for the RAM mount attached to the risers. That's another cool thing about these risers, they come with two holes pre-drilled/tapped to allow to accessory installation. How thoughtful of them.