PADS

The best way to start this section off is to understand that when I got my bike I went a bit nuts and bought all the official pads you can get with the bike, so here's my take on each. These are all OEM Honda parts.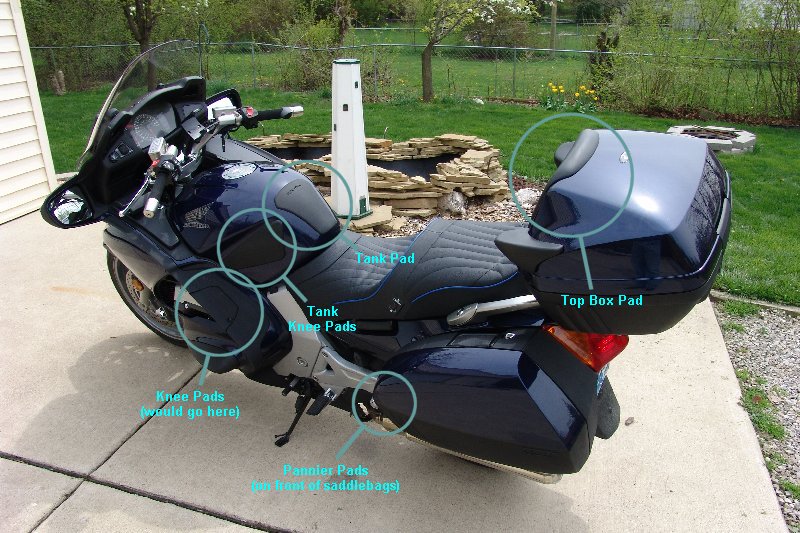 Tank Pad (additional accessory) A+
This one is pretty good. It protects the tank from basic damage (keys, etc.) but mostly it protects the tank from my jacket zipper which would be scratching the heck out of it by now. It is a bit thicker than all the other pads, but not much.

Tank-Knee Pads (comes with bike - Honda calls them "grips") A
I can't find one person to show me how to put these on correctly. They almost fit in multiple ways, but they always have to bend around one of the tank creases, which is not what I consider form-fitting. I trimmed a bit from the tip and put mine on "upside down" as people tell me, but being a big guy, with them up higher like that, they protect the tank from my knees. I know they are also protecting my knees from the tank as I would be hitting (and scuffing) the metal tank constantly while riding. I'm with some people in that I'd like to have no pads and hence a clean tank, but function and comfort are more important to me than style. Plus, they don't look too bad how they are and actually add a bit to the lines of the bike in my opinion.

Knee Pads (additional accessory) F
They are the same thickness as the tank-knee pads but about 1/3 the size. For me they are useless because my knees never even come close to touching them. Even if they did, I'd want something with a bit more cushion. I don't use these, and resold mine on ebay, because they are a waste of money. If you didn't have the fairing deflectors, they might help save the paint a bit, but not much.

Top Box Pad (additional accessory) A
This is the pad that comes installed on the Honda top box. According to Tara, it's pretty comfortable (a bit thicker than the tank pad) and gives good support. Not much more you can ask for from a sissy-bar pad. First time we rode the bike I almost landed her butt on the pavement from take-off because we didn't have the top box installed yet. Man I love this bike! Anyway, the top box is expensive but worth it for many reasons (volume, look, quality, integrated sissy bar).

Pannier Pads (additional accessory) C
These pads fit on the forward section of the panniers (euro-speak for "saddlebag"). Another useless purchase because they fit below the paint line. That's right, they protect the unfinished part of the saddlebags. They also claim to give "heel cushion support" for the passenger, which is questionable at best. They do provide some minor cushioning of the passenger's heel, kinda, ok they don't really.