American Shadow
2002 Honda Shadow VT-750
American Classic Edition Cruiser

The older of my two bikes, but no less special, the Shadow is an awesome cruiser that is a great "smaller" bike. Now, I use the term loosely there, because the bike has nearly the same wheelbase of a GoldWing, weighs 500 lbs and has a 750cc V-twin engine. That said, this five-speed cycle is awesome to balance, control and maneuver at low speeds. The seat is much lower than on the ST and allows you to put your legs out wide and flat, giving you great control at stoplights. The low center of gravity allows the cycle to rumble along at 20mph easily, and be rock solid at highway speeds. The bike is perfect to go cruising through town, without having to worry about it tipping over if you go too slow. The ST is not such a bike, with the tendency to whine incessantly if you aren't going fast. Conversely, I don't like taking this bike on the highway mostly because there is no fairing or windshield of any kind. Bugs aside, it's just not a fun ride. Also, I don't really like the look of a shield on a cruiser. Now you know why I have two bikes.

That said, the cruiser is a much different ride. On the Shadow, you lean back, pulling slightly on the handlebars. It's not quite a chopper-extreme leaning back position, but when you add accessories like extended forward controls and handlebar risers, the bike is about as comfortable as any on the road. They stopped making the A.C.E. model in 2003, but there are plenty of other Shadow choices available.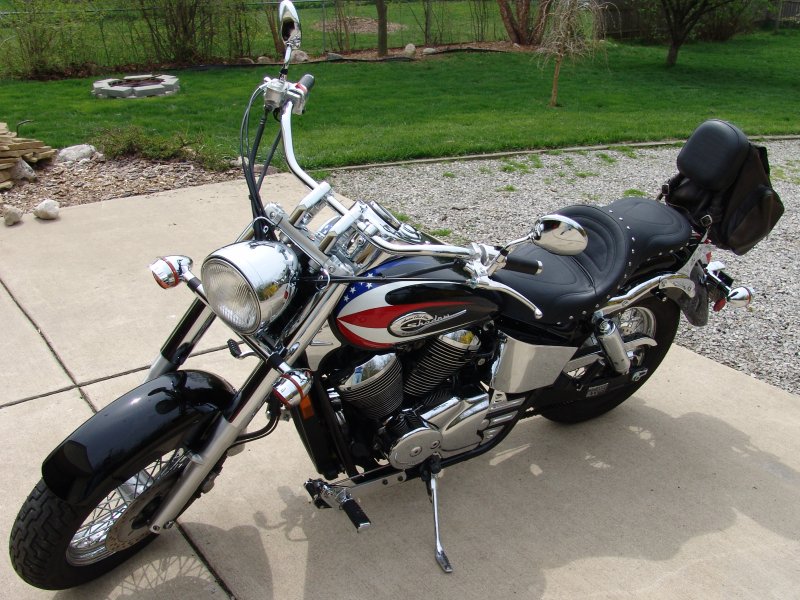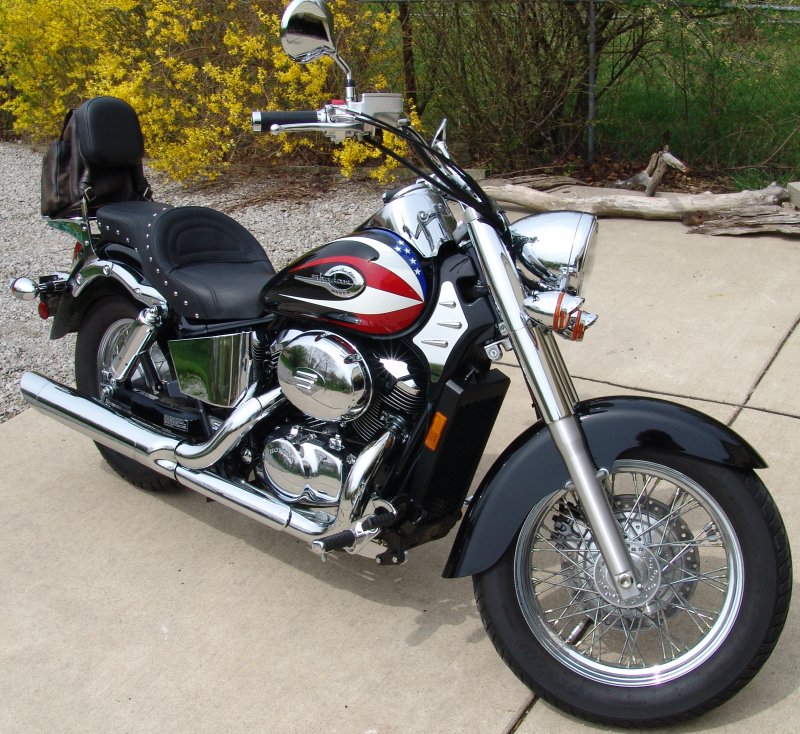 There's pretty much only one thing I could imagine painting on her that would never go out of style, and that's the beautiful stars and stripes. The scalloped scheme is my design, but done as a custom job by a local guy. I am so happy with how it turned out, as it's subtle enough to not overwhelm the chrome, yet really adds to the lines of the bike