SISSY BAR/LUGGAGE RACK

Motorcycles are all about style. Sleek looks, smooth lines, detailed design and raw power. The moment a bike becomes simply "two wheels" to get you back and forth from work each day, you may as well have yourself a scooter - no offense scooter owners! Cycles are not what most people would consider utility vehicles. They aren't designed for hauling large amounts of stuff, but any bike can be fitted with different accessories that will allow you to carry pretty much anything reasonable that you need.

Motorcycles tend to hold form and function equally when it comes to performance and styling, but there sometimes is a call for a bit more function, say to pick up something small from the store, or to hold some extra equipment or snacks, etc. This is when storage is a good thing. Saddlebags is one option on a cruiser, but that's just not for me. I like the look of the spoked wheels and would hate to cover them up with some thick leather bags. Plus, this bike isn't designed for long trips, so having that kind of capacity is just not necessary. If this was a VTX or some other large cruiser, that would be a different story. Tank bags are another option, but cover up that beautiful paint job? No way.

I went with another option. Now Tara really wanted a backrest (sissy bar) and I don't blame her. It adds so much comfort to the passenger. I had first installed the backrest and it looked good. Getting an idea from my brother in law in Delaware, I decided to install a leather back pack directly to the backrest. I simply wrapped each of the straps tightly around the frame of the sissy bar and it held securely. The only problem was that it sagged down and almost covered the tail light. The solution was to install the matching luggage rack to give the support for the bag. It works great and can easily fit a gallon of milk and more. If you choose to do this, make sure the bag is truly leather all around with no rustable clasps or fasteners. All surfaces of the leather must also be annually treated with conditioning lotion and waterproof spray (available at Wilson's leather store and a billion other places too).

Both the backrest and luggage rack are made by Cobra - great quality at a price more reasonable than Honda OEM accessories.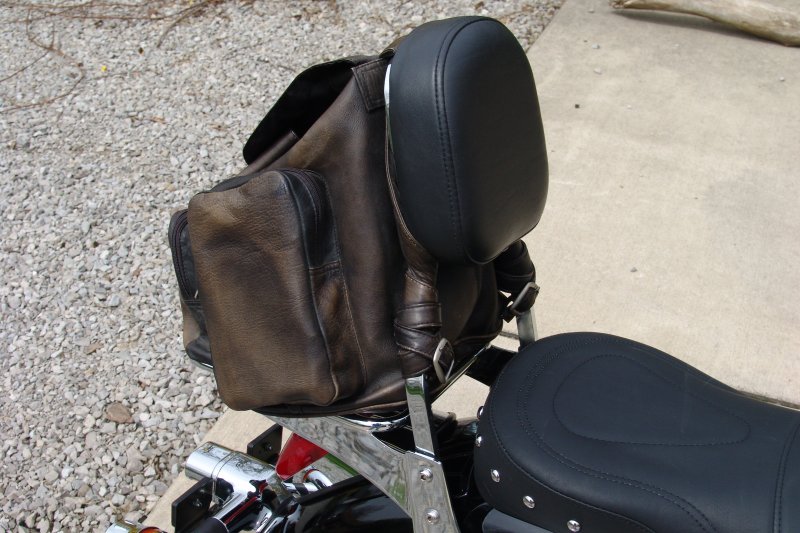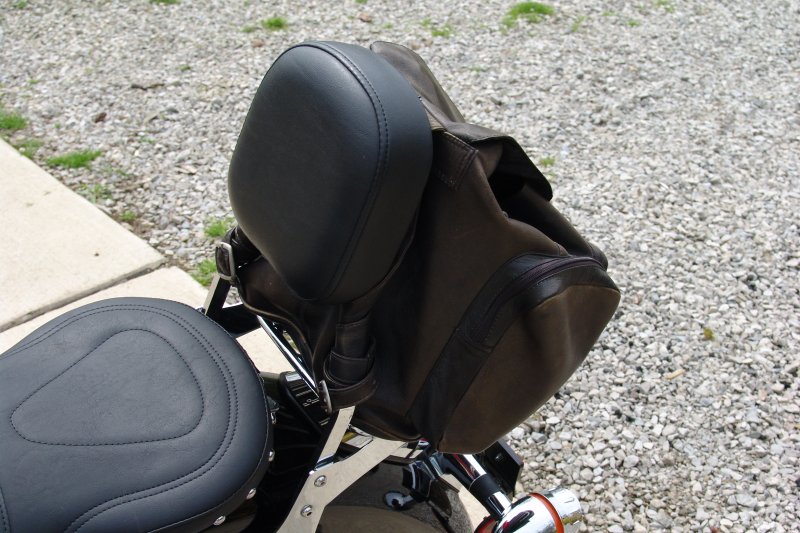 Here you can see the mounting bracket attached to the rear fender support. The bracket is designed to mount both the backrest and the luggage rack.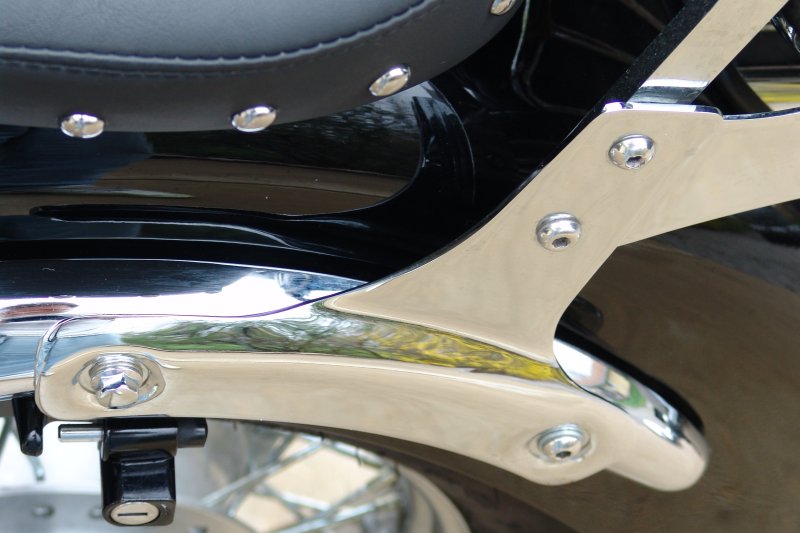 Below is a shot of the luggage rack with the backpack moved aside. You can also see a bit more of the backpack strap wrapped around the backrest.